Name: Double Cone
Brewer: Alvarado Street Brewery (United States)
Style: Double IPA
ABV: 8.5%
Review Year: 2021
Double Cone is the "OG" Double IPA of Alvarado Street Brewery that was dry-hopped with Mosaic, Citra, and El Dorado hops. 
STYLE GUIDELINES
This beer is being evaluated as a Double IPA (22A) in the context of the 2015 Beer Style Guidelines of the Beer Judge Certification Program (BJCP). The most current version of the guidelines can be found on the BJCP website.
TASTING NOTES
Double Cone is a clear, straw-colored beer topped with a white head. Citrus and tropical fruit aromas were fairly high: think of fresh tangerines, orange pith, and passion fruit. As the beer settled, the noted fruity aromas converged into something akin to peach while subtle resiny-leafy "dankness" and a floral note accentuated. Medium-full-bodied; moderate carbonation. Like the aroma, strong flavors of tangerine and passion fruit melded with resin and pine. Malt flavor was supportive: caramelly and toasty. Balance favored the bitterness at a moderately high level, while residual sweetness was far from frail at a medium level. Subtle alcohol was noted as the beer settled, while the aftertaste could be described as slightly bready and bittersweet.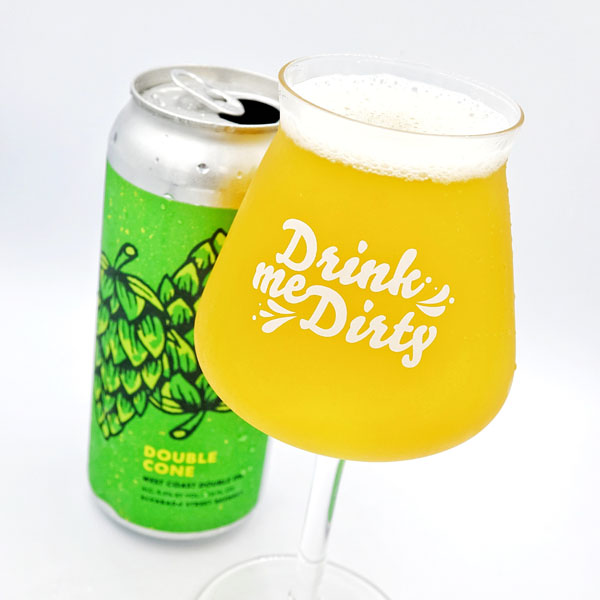 THE VERDICT
Double Cone is a refreshing beer that features the best of both classic and contemporary American hops. Hop aromas and flavors were diverse yet balanced and pleasant; there was citrus, passion fruit, even resin, and pine. The malt flavor was caramelly and slightly toasty but still supported the overall presentation of the beer. Low levels of caramel or toasty flavors are acceptable based on the guidelines.
We find this beer to be on the sweeter side of the style, but the presence of a firm yet harmonious bitterness tempered slightly said character. Essentially, Double Cone has a lot of things going on, but we would imagine it still be a drinkable beer for a hot summer day. Excellent.
Related Reviews:
Alvarado Street Brewery
Beers from the United States
View this post on Instagram