Name: Galletas Chocolada
Brewers: Banayad Craft Brew (Philippines)
Style: Spice, Herb, or Vegetable Beer (Base Style: American Stout)
ABV: 8%
Review Year: 2021
Galletas Chocolada is a stout brewed with traditional tsokolate, cookies, lactose, and vanilla. This is one of the latest creations from the Manila-based Banayad Craft Brew.
STYLE GUIDELINES
This beer is being evaluated as a Spice, Herb, or Vegetable Beer (30A) with the American Stout (20B) as the base style in the context of the 2015 Beer Style Guidelines of the Beer Judge Certification Program (BJCP). The most current version of the guidelines can be found on the BJCP website.
TASTING NOTES
Deep brown almost black; medium brown head with fair retention. Intense and delectable aromas of chocolate chip cookies and cacao were noted with a background note of lychee. Medium-full-bodied; moderate carbonation. Moderate impression of chocolate cookies; medium-low roasty malt backbone reminiscent of cacao nibs. Bitterness was noted at a moderate level, while sweetness was slightly lower. Subtle grape/lychee flavor was present; chocolate powder in the aftertaste.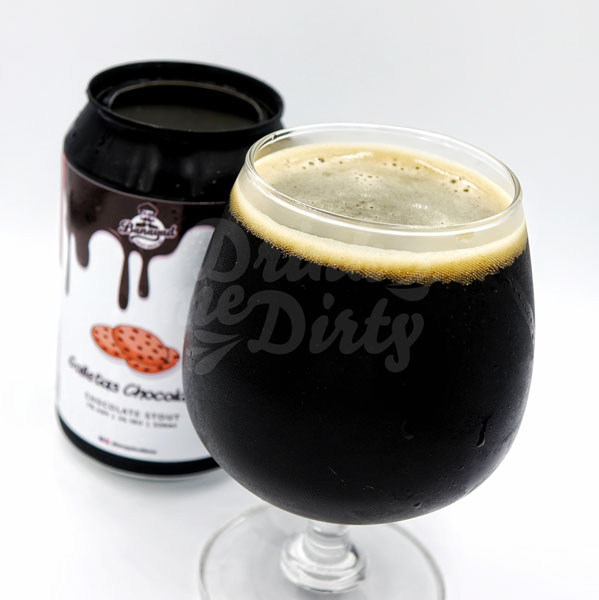 THE VERDICT
Galletas Chocolada is a highly delectable chocolatey dark beer from Banayad Craft Brew.  The aroma is spot-on with the chocolate cookies. As an American Stout, this beer showcased crucially the roasted malt flavor the style is known for, but the hops appear to have been swapped for the adjuncts (e.g., cookies, chocolate).
Since this is an American Stout and not a heavy Imperial Stout, we felt the bitterness and sweetness were appropriate. In our opinion, this is a solid base for pursuing something roastier/darker or even something sweeter. While esters are allowed for the style, we think the grape or lychee-like impressions could still be toned down. Vanilla was not explicit, so maybe more of that could add more charm to Galletas Chocolada. Overall, very good.
Related Reviews:
Banayad Craft Brew
Beers From the Philippines
Co-Founder & Beer Chronicler