Name: Jinjinir
Brewers: Banayad Craft Brew (Philippines)
Style: Spice, Herb, or Vegetable Beer (Base Style: American IPA)
ABV: 8%
Review Year: 2021
Jinjinir, as the name suggests, is a gin and tonic-inspired American IPA brewed by Banayad Craft Brew (Manila, Philippines) with juniper berries, ginger, lemon and lime peels.
STYLE GUIDELINES
This beer is being evaluated as a Spice, Herb, or Vegetable Beer (30A) with the American IPA (21A) as the base style in the context of the 2015 Beer Style Guidelines of the Beer Judge Certification Program (BJCP). The most current version of the guidelines can be found on the BJCP website.
TASTING NOTES
Hazy deep gold, thin white head. Juniper berry and lime (moderately high) were the most prominent of aromas; hints of toffee/caramel and bread were noted in the background. Medium-bodied and moderate carbonation. A flavorful blend of zesty lime and distinct juniper berries (medium-high) surfaced, while a background note of ginger, which was somewhat difficult to distinguish from the resiny-zesty hops, was also present. Malt manifested as bready with some caramel. Moderately high bitterness, low residual sweetness. More of the juniper berries, caramel, and hop bitterness brought this beer to a close.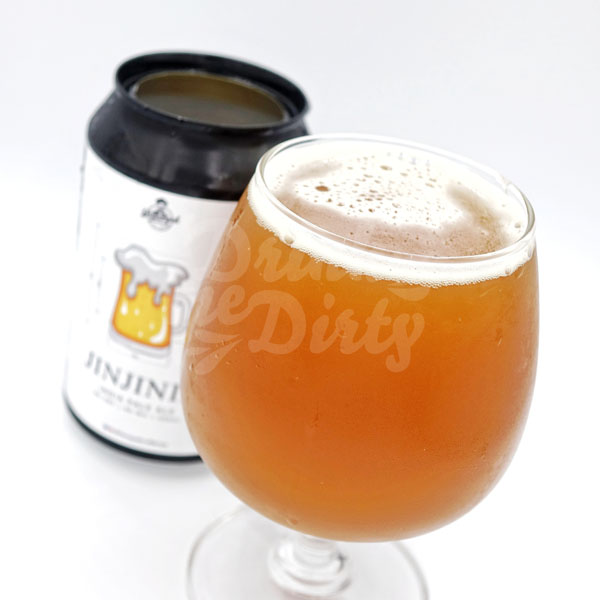 THE VERDICT
Jinjinir is a beer that attempts to capture the essence of gin and tonic, and this beer does just that. The botanicals expected from the cocktail really surfaced, while the hoppiness the American IPA style is known for was also there.  Since this is a novel concoction, this is probably not for everyone. In our opinion, less of the bready malt character could improve the balance further and give this beer a "cleaner" profile. Overall, very good.
Related Reviews:
Banayad Craft Brew
Beers From the Philippines
Co-Founder & Beer Chronicler