Name: Pistahan Halo-Halo
Brewer: Banayad Craft Brew (Philippines)
Style: Alternative Sugar Beer (Base Style: Spice, Herb, or Vegetable Beer)
ABV: 7%
Review Year: 2021
Pistahan Halo-Halo is the latest novelty from the Manila-based Banayad Craft Brew released just in time for the country's Independence Day celebrations. Inspired by the popular cold dessert in the Philippines, this "Milkshake IPA" features ube (purple yam), coconut, pinipig, munggo (mung beans), and lactose.
STYLE GUIDELINES
This beer is being evaluated as an Alternative Sugar Beer (31B) with the Spice, Herb, or Vegetable Beer (30A) as the base style in the context of the 2015 Beer Style Guidelines of the Beer Judge Certification Program (BJCP).
TASTING NOTES
Semi-opaque dark violet color with a lilac head. This beer smelled like halo-halo; think of moderately strong impressions of ube, evaporated milk, coconut, pinipig, and sweet beans blended together. Medium-full-bodied; moderately-low carbonation. A similar halo-halo-inspired flavor profile was also noted with ube, coconut, and corn syrup being the most prominent. Low lychee and orange peel flavors were noted in the background. Sweetness was high (likely from the lactose) while perceived bitterness was very low. Malt character was also quite subtle and indistinct. Meanwhile, the aftertaste lingered with syrup-like sweetness, ube, and a light malt character.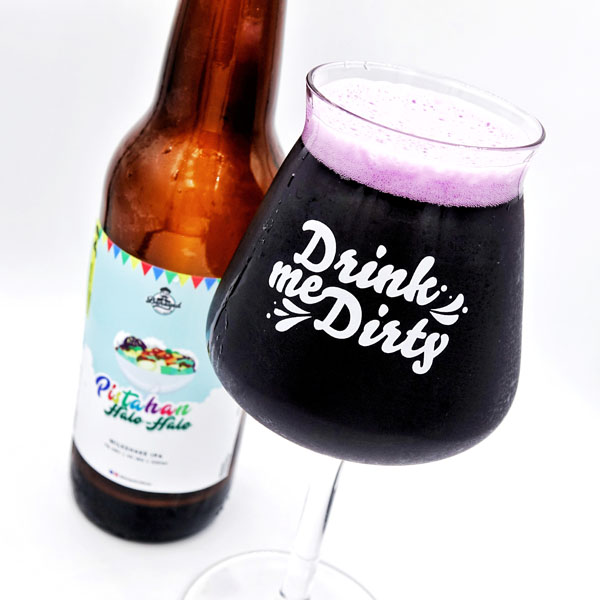 THE VERDICT
Pistahan Halo-Halo is a novelty that definitely lives up to its name. The aroma and appearance are very strong points of this beer, but the preconceived notion of what halo-halo is may have influenced us in this review. While the flavor profile was also aptly dessert-inspired, we think the sweetness was slightly high due mainly to the lactose addition. The hop flavor, bitterness, and malt character were still present albeit subtle, so less of the lactose could give more room for the key flavors mentioned.
There are virtually unlimited ways "experimental" beers such as this one could be pushed further. For instance, a variation with more pronounced coconut character could be pursued by introducing Sabro hops, a variety noted to impart that characteristic among others. Pistahan could even be a range of beers from Banayad inspired by the various delicacies the Philippines has to offer. But at par value, Pistahan Halo-Halo is already a very good take on a beer inspired by the popular Filipino dessert.
Related Reviews:
Banayad Craft Brew
Craft Beer in the Philippines
HideOut Craft Brewery "Ube Milkshake IPA 2.0"
Recommended Reading:
WTF is a Milkshake IPA? (Vinepair, 2018)
Co-Founder & Beer Chronicler