Name: Un Deux Trois
Brewer: Craftwork Brewery (New Zealand)
Style: Gueuze
ABV: 6.0%
Review Year: 2020
Un Deux Trois is the interpretation by Craftwork Brewery (New Zealand) of the classic Belgian sour beer style. This gueuze-style is a blend of one, two, and three-year-old lambic-style beers crafted in a traditional manner and was spontaneously fermented in Oamaru.
According to Craftwork, the gueuze is traditionally a blend of one, two, and three-year-old Lambic, usually with the proportions of 60,30, and 10 percent, respectively. They have, instead, blended their lambic-style beers 50,25, and 25 percent, respectively, in consideration of balance and taste rather than tradition.
STYLE GUIDELINES
This beer is being evaluated as a Gueuze (23E) in the context of the 2015 Beer Style Guidelines of the Beer Judge Certification Program (BJCP). The most current version of the guidelines can be found on the BJCP website.
TASTING NOTES
Poured without the sediments, pale gold with brilliant clarity; flat head. Primarily soft apricot, lemon peel, fermented peach, and cedarwood aromas on the nose. Light-bodied with moderately-high carbonation. Zesty lemon peels blend with tangerine and cedarwood; moderate and palatable lactic-like sourness; low hop bitterness. Initial impressions of light pomelo, lemon, cedarwood, and cantaloupe paint the aftertaste but do not linger. No puckering quality. Poured with the sediments, this gueuze becomes hazy. The flavor profile becomes surprisingly less tarty and is sweeter.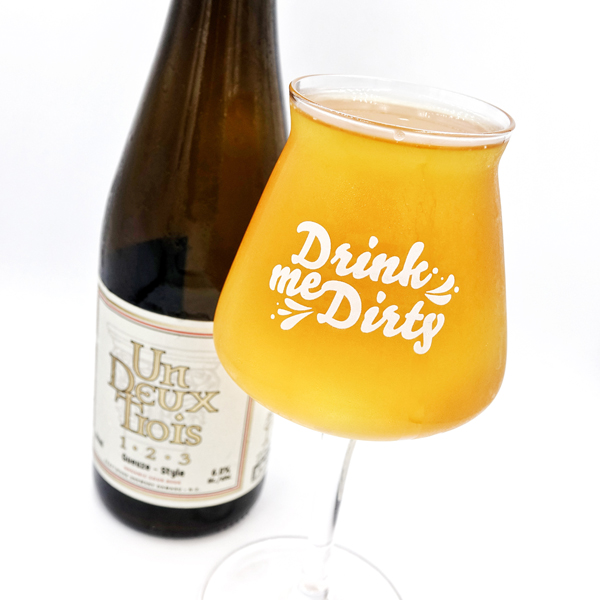 THE VERDICT
Un Deux Trois is an effervescent, refreshing, and very approachable Kiwi interpretation of the classic Belgian style that features mainly lemon peel, cedarwood, and pleasant lactic-like sourness. Definitely well-balanced, but a thicker head would definitely add to the charm of this beer. Excellent. We look forward to exploring more of these Belgian-style beers from Craftwork.
Related Reviews:
Craftwork Brewery
Beers From New Zealand
Recommended Readings:
View this post on Instagram
Co-Founder & Beer Chronicler