Name: Twilight of the Idols
Brewer:  Hill Farmstead Brewery (United States)
Style: Spice, Herb, or Vegetable Beer (Base Style: American Porter)
ABV:7.2%
Review Year: 2022
Twilight of the Idols is the Winter Porter of Hill Farmstead Brewery. This beer is brewed every Autumn, with a touch of coffee, and aged on a blend of select vanilla beans. This Porter was conceived initially in 2009 in Denmark and is inspired by the brewers' philosophical idol, Fredrich Nietzsche.
Backlog review from March 2022.
STYLE GUIDELINES
This beer is being evaluated as a Spice, Herb, or Vegetable Beer (30A) with the American Porter (20A) as the base style, in the context of the 2021 Beer Style Guidelines of the Beer Judge Certification Program (BJCP). The most current version can be found on the BJCP website.
TASTING NOTES
Aroma
Twilight of the Idols offers a captivating aroma profile. The scent is dominated by moderately high notes of chocolate and cacao, accompanied by the enticing presence of dark roasted coffee. Subtle hints of cinnamon, anise, nuts, and vanilla add a touch of complexity. Low earthy hops complement the rich aroma, creating an inviting olfactory experience.
Appearance
This beer pours a clear deep brown, captivating the eye with its inviting hue. Topping it off is a brown head with good retention.
Flavor
Dark roasted malts take center stage, reminiscent of bold dark roast coffee, and are accompanied by the richness of unsweetened chocolate/cacao/nutty undertones. Earthy hops, complemented by accents of anise and cinnamon, add depth and complexity to the overall taste. The bitterness is moderately high, balanced by a medium-low sweetness. The finish is subtly sweet with a pleasant blend of malty chocolate, dark roast coffee, earthy hops, and a hint of vanilla.
Mouthfeel
This beer is medium-bodied with moderate carbonation. It strikes a balance, neither too heavy nor too light, allowing the flavors to unfold comfortably on the palate.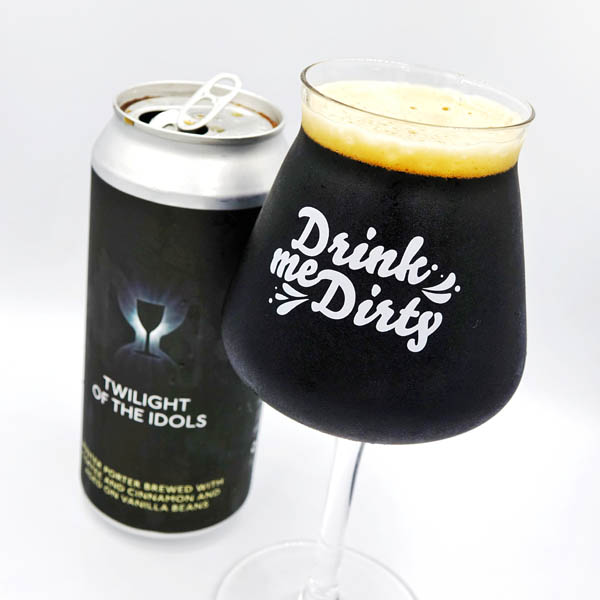 THE VERDICT
Twilight of the Idols is an excellent porter that delivers a full and satisfying experience. From its enticing aroma to its rich and complex flavor profile, it captures the essence of a well-crafted porter. The prominent roasted malt character, paired with the interplay of chocolate, coffee, and subtle spice accents, creates a robust and enjoyable drinking experience. For those who appreciate a quality porter, this is one that excels in showcasing the characteristics the style is known for.
Related Reviews:
Hill Farmstead Brewery
Craft Beer From the United States