Name: Crimson Queen
Brewers: Holy Goat Brewing (United Kingdom)
Style: Fruit Beer (Base Style: Flanders Red Ale)
ABV: 7.4%
Review Year: 2021
Crimson Queen is an interpretation of the Belgian Flanders Red style by Holy Goat Brewing from Scotland. This Flanders Red Ale was brewed with lightly kilned malts for the deep red hue and was fermented with Brettanomyces and a special mixed culture. The base beer was also refermented on locally grown Scottish blackberries and tayberries.
STYLE GUIDELINES
This beer is being evaluated as a Fruit Beer (29A) with Flanders Red Ale (23B) as the base style in the context of the 2015 Beer Style Guidelines of the Beer Judge Certification Program (BJCP). The said guidelines were used since we reviewed this beer before 29 December 2021, the date of publishing of the 2021 update. The most current version can be found on the BJCP website.
TASTING NOTES
Opaque crimson; medium low pinkish white head. Moderately high aromas of berries (raspberry being the most familiar) and peach were at the forefront, a hint of lactic acid accentuated. Medium-bodied; moderate carbonation. Prominent tart raspberry was the dominant flavor and was followed by a peppery and umami hint. Both bitterness and sweetness were low. Aftertaste lingered with fruit-enhancing wine-like acidity.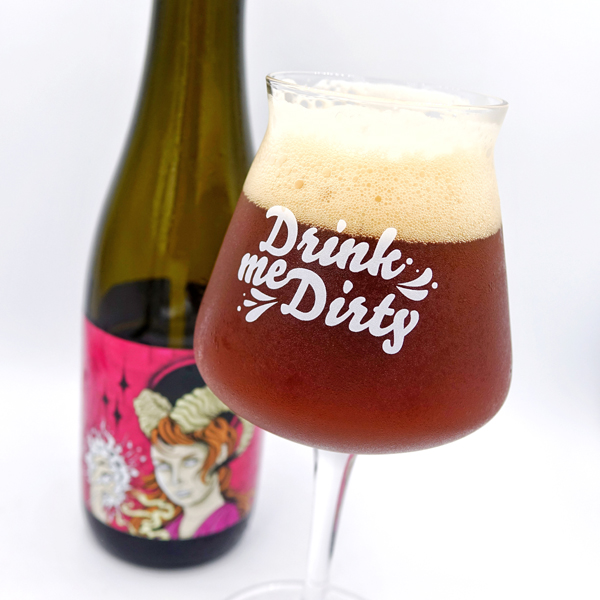 THE VERDICT
As perceived, Crimson Queen features heavily the tartness and fruitiness of raspberries. We have not tried tayberries but these are noted to be sweeter versions of raspberries sans the tartness.
The wild yeasts have definitely made their presence known with the acidity, but we think this quality, coupled with the fruit addition, seemed to have overpowered the malts. Despite this, body, carbonation, mouthfeel, and balance between bitterness and sweetness all felt appropriate.
Overall, we think this is a commendable on the style and one that can be enjoyed with cheesecake.
Related Reviews:
Donzoko Brewing Company
Braybrooke Beer Co.
Craft Beer From the UK
View this post on Instagram
Co-Founder & Beer Chronicler