Name: Smuggler's Bay Bourbon Barrel Aged Scotch Ale (2019)
Brewer: McLeod's  Brewery (New Zealand)
Style: Specialty Wood-Aged Beer (Base Style: Wee Heavy)
ABV: 8.3%
Review Year: 2020
The Smuggler's Bay Bourbon Barrel Aged Scotch Ale by New Zealand's McLeod's Brewery is a Wee Heavy tucked into some fresh Four Roses Bourbon casks. The Smuggler's Bay Collection is the brewery's answer to the age-old question: what happens when good beer ages in good barrels?
Established in 2014, McLeod's Brewery is a small 20HL brewery located up north in Waipu, a small town with Scottish heritage. The brewery was founded by siblings Geoff and Clayton Gwynne but now has Jason Barthgate as head brewer. In the 2019 Australia International Beer Awards (AIBA), McLeod's was named the Champion Small International Brewery with a trophy and 11 medals. The brewery also had a brew included in New Zealand's top 30 beers and ciders in the New World Beer and Cider Awards.
STYLE GUIDELINES
This beer is being evaluated as a Specialty Wood-Aged Beer (33B) with the Wee Heavy (17C) as the base style in the context of the 2015 Beer Style Guidelines of the Beer Judge Certification Program (BJCP). The most current version of the guidelines can be found on the BJCP website.
TASTING NOTES
Clear deep amber; foamy brown head. We were greeted by enticing black forest cake on the nose. As the beer warms, a myriad of aromas surfaced: brown sugar or caramel, raisin, lychee, and aged honey among others. Light-medium body; moderate carbonation. The flavor is tilted towards the sweet-malty side rather than the hops– appropriate for the base style. Think of brown sugar or caramel, coffee, and raisin. Nothing heavy or overpowering. Hints of vanilla, black pepper, oak, and tannins contribute to the complexity. Light maple syrup, dried fruits, and oak paint the aftertaste.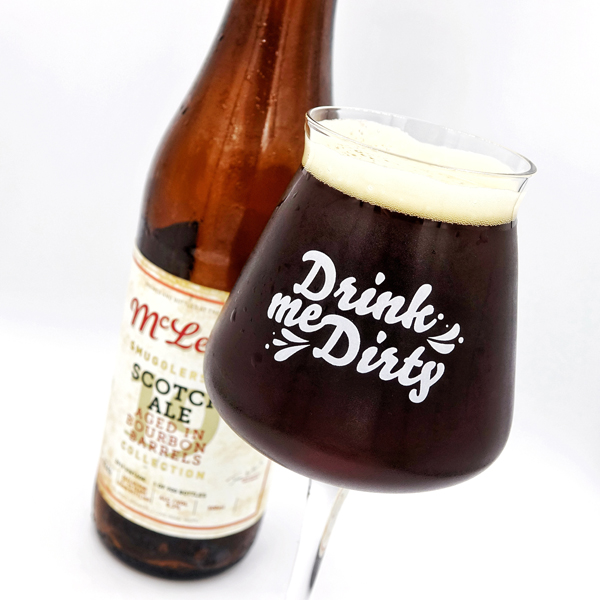 THE VERDICT
Overall, the Smugglers Bay Bourbon Barrel Aged Scotch Ale is an enjoyable beer that features primarily brown sugar, coffee, dried fruit, and oak attributes. This barrel-aged Wee Heavy feels lighter in body relative to the other non-aged beers of this style. Aside from being smooth (no harsh or hot alcohol notes), the barrel component did not overpower but instead appeared to have contributed subtle vanilla, oak, and tannins to complement the hallmark features of the base style. We think these qualities played an important role in making this beer quite drinkable. Save this for those cold evenings by the fireplace. Excellent.
View this post on Instagram
Co-Founder & Beer Chronicler