Disclaimer: We will come clean. This article was, unfortunately, written at a time when we were not aware that mats of bubbles are symptoms of a dirty glass. Just because we are Drink Me Dirty, it does not mean it is acceptable to drink from a dirty glass. Clean and rinse your glasswares properly. As better informed drinkers, we now vow to spread the gospel of clean glassware. Read more about this topic here. #DirtyGlassMafia
---
Name: Patrons Project 16.02 // Haze Outdoors // Getting Caught in the Rain // Basqueland Brewing Company // White Labs Copenhagen // Piña Colada Milkshake IPA
Brewer: Northern Monk (United Kingdom), Basqueland Brewing (Spain)
Style: Specialty Fruit Beer (Base Style: Fruit and Spice Beer)
ABV: 7.4%
Review Year: 2019
Inspired by their trip to Miami, the brethren of Northern Monk collaborated in 2019 with the Spanish craft brewery, Basqueland Brewing for a Piña Colada-inspired milkshake IPA named, Patrons Project 16.02 aka. Getting Caught in the Rain. This beer was brewed with lactose, finely flaked untoasted coconut, pineapple puree, and was dry-hopped with the hops varieties Citra, Sabro, and Denali.
The Patrons Project is an initiative by Northern Monk to foster collaboration, creativity, and community between artists, athletes, and creatives across Northern England through curating beers that represent each chosen patron. The beers from the sixteenth series are tributes to Paul Hayes aka. Haze Outdoors a YouTube Yorkshireman and outdoor enthusiast.
Read More: Northern Monk Patrons Project
STYLE GUIDELINES
This beer is being evaluated as a Specialty Fruit Beer (29C) with Fruit and Spice Beer (29B) as the base style in the context of the 2015 Beer Style Guidelines of the Beer Judge Certification Program (BJCP). The most current version of the guidelines can be found on the BJCP website.
TASTING NOTES
Patrons Project 16.02 is a hazy orange yellow beer. The beer opens up with a diverse profile of vanilla, fresh coconuts, toasted coconuts, and pineapple. On the palate, this milkshake IPA is medium-bodied with a moderate level of carbonation. A bright malty and oaty backbone is balanced with the cocktail-inspired flavors: pineapples, vanilla, and lime citrus. Lactose is present, but mild enough to accentuate, and not overpower, the key flavors. The aftertaste does not linger long but leaves an impression akin to lime.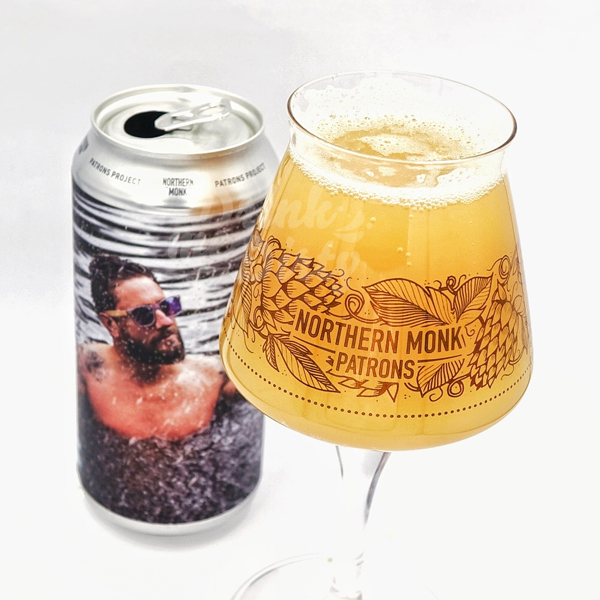 THE VERDICT
This beer already brings out the Piña Colada-inspired aromas and flavors, but we think more of these would make this beer more interesting. The presence of lactose is already sufficient, and as mentioned, not overpowering. Overall, Patrons Project 16.02 is a refreshing and drinkable cocktail-inspired beer meant to be enjoyed on a hot summer day.
Facebook:
Northern Monk
Basqueland Brewing
Instagram:
Northern Monk
Basqueland Brewing
Co-Founder & Beer Chronicler