Name: Boss Ryeway (2019)
Brewer:  Revolution Brewing Company (United States)
Style: Specialty Wood-Aged Beer
ABV: 14.6%
Review Year: 2022
Boss Rye (2019) by Revolution Brewing Company is a complex sipper that combines American rye with the toasted and nutty qualities of French oak. This "Ryewine" was matured in WhistlePig Boss Hog Armagnac barrels before being blended with a small selection of bourbon and rye-barrel aged Ryeway for balance.
Backlog review from November 2022.
STYLE GUIDELINES
This beer is being evaluated as a Specialty Wood-Aged Beer (33B) in the context of the 2021 Beer Style Guidelines of the Beer Judge Certification Program (BJCP). The most current version can be found on the BJCP website.
TASTING NOTES
Aroma
Enticing scents of charred fruit and caramelized hints greet the nose. Raisins contribute a fruity essence, while rye adds a distinctive spiciness. Soft alcohol notes and herbal undertones complement the overall bouquet.
Appearance
This beer pours a deep brown hue. Topping off the beer is a long-lasting brown head, which crowns the liquid with a sense of elegance.
Flavor
The flavor profile mirrors the aroma. It embraces the charred fruit qualities noted, with a delightful interplay of dark and sweet flavors. Raisins make their presence known. Additional malty flavors reminiscent of dark chocolate and nutty cacao emerge, forming a solid backbone. Impressions of boozy cognac bind everything together.  Also present are indistinct spices, which add depth and complexity without overpowering the palate. The leaves behind a memorable combination of dark fruits and spirit, ensuring that each sip is savored and enjoyed.
Mouthfeel
Medium-full body; moderate carbonation provides a gentle effervescence.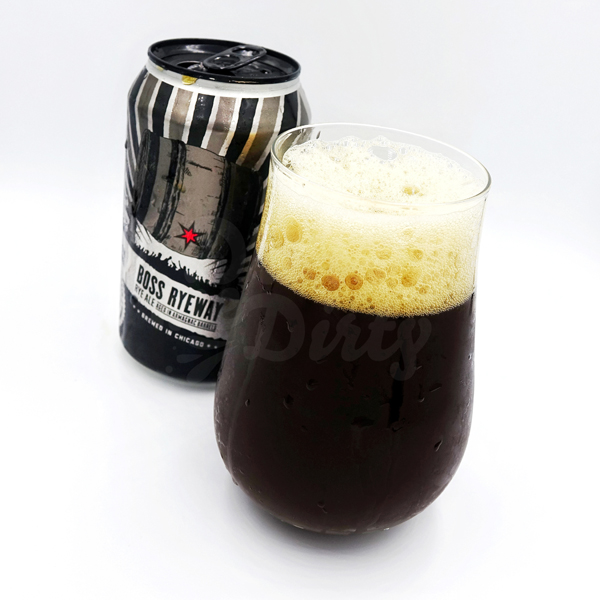 THE VERDICT
Three years old at the time of consumption, Boss Ryeway is still a beer that truly stands out. Its rich and complex nature makes it a perfect choice for a nighttime sipper, particularly during the winter months. Picture yourself sitting by a cozy fireplace, enveloped in warmth and comfort as you savor the deep flavors this beer has to offer.
Related Reviews:
Revolution Brewing Company
Craft Beer from the US