Name: Jacobite Ale
Brewer: Traquair House Brewery (United Kingdom)
Style: Spice, Herb, or Vegetable Beer (Base Style: Wee Heavy)
ABV: 8%
Review Year: 2021
The Jacobite Ale is a Wee Heavy/Scotch Ale brewed with an ancient ingredient, the coriander. This ale was brewed by Traquair House Brewery, which is located within Scotland's oldest inhabited house, and was first brewed in 1995 to commemorate the Jacobite Revolution.
STYLE GUIDELINES
This beer is being evaluated as a Spice, Herb, or Vegetable Beer (30A) with the Wee Heavy (17C) as the base style in the context of the 2015 Beer Style Guidelines of the Beer Judge Certification Program (BJCP). The said guidelines were used since we reviewed this beer before 29 December 2021, the date of publishing of the 2021 update. The most current version can be found on the BJCP website.
TASTING NOTES
Clear deep amber; brown head with fair retention. Fairly high aromas of coriander and gingerbread spice dominated, with moderate caramel, toasted malt and subtle dried fruits supporting. The flavor profile was bouquet of the familiar spices and herbs (e.g., coriander, gingerbread spice, cinnamon, and licorice) with a moderately low caramel/toffee, and cola backbone. Bitterness and sweetness were both noted at medium-low levels. Jacobite Ale concluded with tamed impressions of spices, coriander, and cola without the sweetness.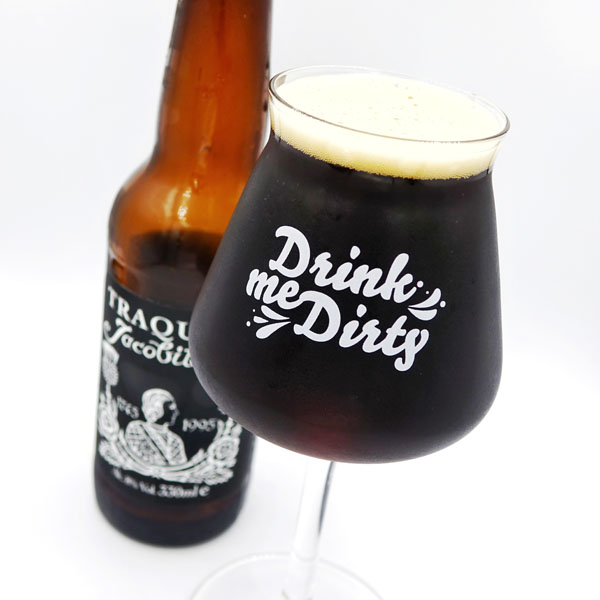 THE VERDICT
Jacobite Ale is an outstanding example of a Spice, Herb, or Vegetable (SHV) Wee Heavy. The coriander was notable, well-integrated, and did not give off raw aromas and flavors. It also was in harmony with the caramel malt and fruity esters present.
This Wee Heavy warms up well, which reveals more of its complexity as you nurse it. We think it could be a great companion on a long winter night.
Related Reviews:
Traquair House Brewery
Beers From the UK
View this post on Instagram
Co-Founder & Beer Chronicler