Name: Love Shadow
Brewer: Wheatland Spring Farm + Brewery (United States)
Style: Mixed-Style Beer (Base Style: American Stout)
ABV: 8.4%
Review Year: 2021
Love Shadow is an American Stout by Wheatland Spring Farm + Brewery (Virginia) rested in freshly-dumped Catoctin Creek Whisky barrels made of Virginia Oak. This beer was also conditioned on Michigan cherries, Madagascar vanilla beans, as well as Dominican and Haitian cacao.
STYLE GUIDELINES
This beer is being evaluated as a Mixed-Style Beer (34B), combining Specialty Wood-Aged Beer (33B) and Fruit and Spice Beer (29B), with American Stout (20B)as the base style in the context of the 2015 Beer Style Guidelines of the Beer Judge Certification Program (BJCP). Since this beer was reviewed before 29 December 2021, the mentioned guidelines were used. The 2021 Beer Style Guidelines, which is the most current version, can now be found on the BJCP website.
TASTING NOTES
Slightly hazy deep brown; light brown head with good retention. On the nose: moderately high aromas of decadent chocolate, praline, and whisky meld with secondary notes of oak/wood, bourbon, and wild cherries. Medium-full-bodied, moderate carbonation; almost silky mouthfeel with slightly puckering afterfeel. Flavors of chocolate/brownies, gingerbread, as well as bourbon surfaced at moderately high levels and were enhanced by hints of slightly tangy wild cherries, oak, citrus, and piney hops. Aftertaste lingered with cacao nibs and bourbon.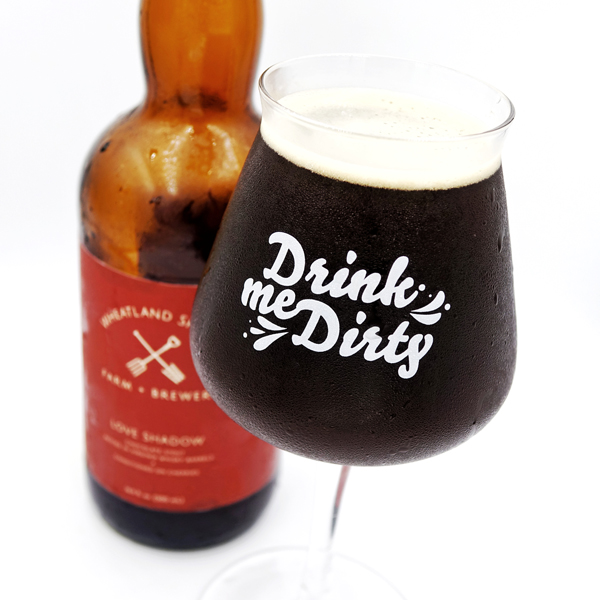 THE VERDICT
Love Shadow is an outstanding whisky barrel-aged American Stout that blends the chocolatey decadence of the malts with the characterful cherries, bourbon, and oak. Vanilla was not explicit relative to the other adjuncts of this beer, while the puckering or astringent afterfeel is something that can be expected from beers aged or conditioned on wood. Everything else seems to fall into place for this beer. Enjoy with dark chocolate and a bowl of wild cherries.
Related Reviews:
Wheatland Spring Farm + Brewery
Craft Beer From the United States
Co-Founder & Beer Chronicler