Name: Green Shoots (春色艷雅)
Brewer: Young Master Brewery  (少爺啤)
Style: Mixed-Style Beer (Base Style: New England IPA)
ABV: 6.5%
Review Year: 2021
Green Shoots is an ode to spring season by Young Master Brewery  (少爺啤) from Hong Kong. This Pandan Milkshake IPA marries the sweet fragrance of fresh pandan leaves with bright citrusy hops.
STYLE GUIDELINES
This beer is being evaluated as a Mixed-Style Beer (34B), combining Alternative Sugar Beer (31B) and Spice, Herb, or Vegetable Beer (30A) , with Specialty IPA: New England IPA (21B) as the base style in the context of the 2015 Beer Style Guidelines of the Beer Judge Certification Program (BJCP). The said guidelines were used since we reviewed this beer before 29 December 2021, the date of publishing of the 2021 update. The most current version can be found on the BJCP website.
TASTING NOTES
Hazy green like pandan leaf with a greenish white head. As expected the aroma profile showcased prominent and soothing pandan with supporting scents of bready malt, bamboo, and  even macapuno/coconut sport. Light-medium-bodied, moderate carbonation. Pandan leaves and vanilla dominated the flavor but with a syrup-like quality. Secondary flavors complemented the pandan: low lemon zest, low bready malt, and some fruity and dry coconut with an umami/savory impression. Medium-low bitterness and sweetness The aftertaste lingered briefly with hints of lemon zest, bitterness, and dried coconut.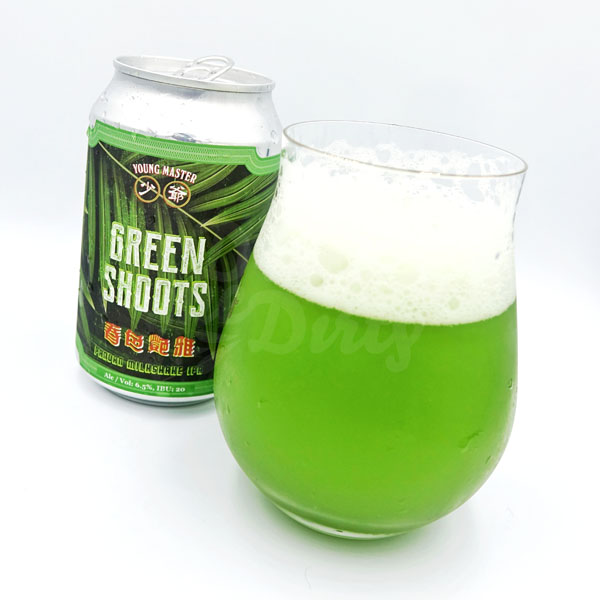 THE VERDICT
Novelty beers such as Green Shoots are challenging to benchmark since not a lot of breweries make them and, more often than not, do not have explicit style guidelines. In our opinion, Green Shoots, as a hazy IPA brewed with lactose and pandan leaves, is a very good concept. Pandan was definitely showcased, while bitterness and malt presence were still notable enough to remind its drinkers that this was still beer.
Related Reviews:
Young Master Brewery
Craft Beer From Hong Kong
HideOut "Buko-Pandan" Milkshake IPA
View this post on Instagram
Co-Founder & Beer Chronicler