Name: Execute Order 66
Brewers: Ampersand Brew Co., Emperor's Brewery (United Kingdom)
Style: Alternative Sugar Beer (Base Style: Imperial Stout)
ABV: 10.5%
Review Year: 2022
Execute Order 66 is the pastry-inspired Imperial Stout collaboration between Ampersand Brew Co. and Emperors Brewery from the UK. Rich flavors of dark chocolate, hazelnut, and vanilla layered over deceit and treachery. Cold steeped cocoa nibs and malts create complexity in this dangerously drinkable galactic stout.
Backlog review from August 2022.
STYLE GUIDELINES
This beer is being evaluated as an Alternative Sugar Beer (31B) with the Imperial Stout (20C) as the base style in the context of the 2015 Beer Style Guidelines of the Beer Judge Certification Program (BJCP). The said guidelines were used since we reviewed this beer before 29 December 2021, the date of publishing of the 2021 update. The most current version can be found on the BJCP website.
TASTING NOTES
Aroma
Execute Order 66 offers a rich and enticing aroma profile starring a blend of hazelnut, chocolate fudge brownie, and vanilla.
Appearance
This beer pours a deep black color, showcasing its menacing nature. It forms a brown head, although it dissipates rather quickly just like Jango Fett's.
Flavor
Execute Order 66 is dominated by intensely sweet chocolate and hazelnut notes, evoking images of a delectable dessert. Alongside this prominent sweetness is a subtle roasty and charred undertone that adds depth and complexity. Herbal hop flavors, likely from the hops, make a modest appearance accompanied by a touch of vanilla. The balance favors the dominating sweetness over the moderately high bitterness. The finish allows the key flavors to leave a lasting impression.
Mouthfeel
This Imperial Stout exhibits a medium body, which is a notch lower compared to typical beers of this style, while the carbonation level is moderately low, contributing to the smoothness of the beer.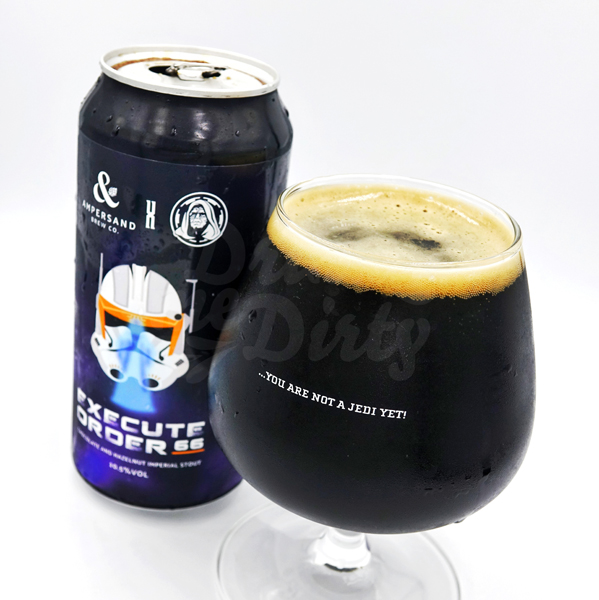 THE VERDICT
Overall, Execute Order 66 stands as a commendable pastry stout, boasting a decadent array of adjunct qualities: hazelnut, chocolate fudge brownie, and vanilla. However, we think the adjuncts have overshadowed the malt backbone, which is often a deliberate sin of these pastry-inspired brews. To elevate this beer even further, a fuller body would be desirable, in our opinion. Nonetheless, Execute Order 66 remains a very good choice for those seeking a sweet and indulgent experience.
Related Reviews:
Ampersand Brew Co.
Emperor's Brewery
Craft Beer From the UK