Name: Brewers Blend
Brewer: Finkel & Garf Brewing Company (United States)
Style: Mixed-Style Beer (Base Style: Imperial Stout)
ABV: 10.3%
Review Year: 2022
Finkel & Garf Brewing Company (Boulder, Colorado) presents Brewers Blend, a delightful blend of three distinct Imperial Stouts of their creation. This beer showcases a masterfully crafted combination consisting of 15% Breckenridge barrel-aged Imperial Stout, 15% Breckenridge barrel-aged Double Mash Imperial Milk Stout, and 70% Imperial Milk Stout.
Backlog review from January 2022.
STYLE GUIDELINES
This beer is being evaluated as a Mixed-Style Beer (34B), combining the Specialty Wood-Aged Beer (33B) and Sweet Stout (16A), with the Imperial Stout (20C) as the base style in the context of the 2021 Beer Style Guidelines of the Beer Judge Certification Program (BJCP). The most current version can be found on the BJCP website.
TASTING NOTES
Aroma
Brewers Blend presents a medium-low aroma of grapes and alcohol (wine perhaps), accompanied by a hint of toasty malt, licorice, and vanilla.
Appearance
This beer pours a deep black color, exuding a sense of boldness. It forms a brown head with fair retention, which adds a visual appeal to the glass.
Flavor
The flavor profile is dominated by a moderately high presence of dark roast coffee and malt, offering a robust and fulfilling experience. Subtle notes of raisins, licorice, oak, and whisky add layers of complexity. There are also hints of herbal earthiness and tobacco, contributing a unique twist. The balance favors the moderately high bitterness over medium-low sweetness. The finish is long-lasting, leaving impressions of tobacco and dark roast coffee.
Mouthfeel
Brewers Blend showcases a full body that delivers a satisfying weight on the palate and low carbonation. These qualities are true to the style expectations for an Imperial Stout.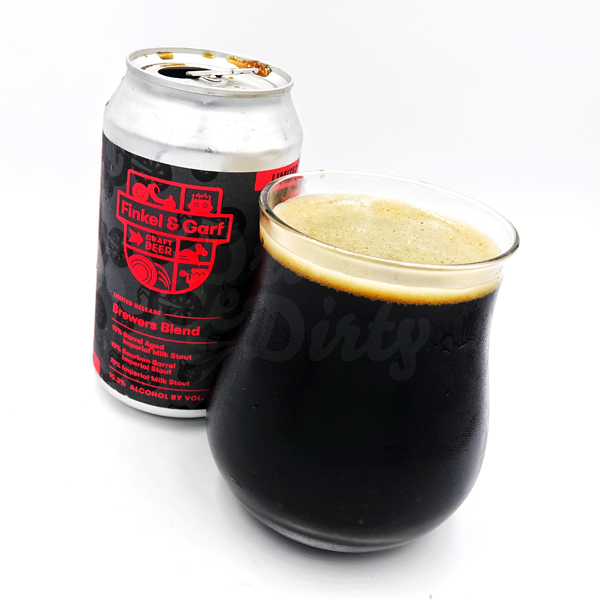 THE VERDICT
Brewers Blend earns an excellent rating, standing out as an Imperial Stout with pronounced oak and whisky influences. The influence of the Sweet Stout or "Milk Stout," particularly the lactose, appears to have softened the expression, enhancing its overall drinkability. However, it is worth noting that a more intense aroma would elevate the beer even further in our opinion. Nevertheless, Brewers Blend is an impressive offering for advocates of dark and roasty barrel-aged beers.
Related Reviews:
Finkel & Garf Brewing Company
Beers from the US