Name: A Saying of Prayers
Brewer:  Burial Beer Co., J. Wakefield Brewing (United States)
Style: Specialty Wood-Aged Beer (Base Style: English Barleywine)
ABV: 12%
Review Year: 2022
Burial Beer Co. and J. Wakefield Brewing present A Saying of Prayers, a collaboration featuring a Red Wine Barrel-Aged Barleywine infused with a blend of Tahitian, Mexican, and Bourbon Vanilla Beans. Brewed in the traditional English style, this barleywine was aged for 18 months in red wine barrels and spent bourbon oak casks.
Backlog review from February 2022.
STYLE GUIDELINES
This beer is being evaluated as a Specialty Wood-Aged Beer (33B) with the English Barleywine (17D) as the base style in the context of the 2021 Beer Style Guidelines of the Beer Judge Certification Program (BJCP). The most current version can be found on the BJCP website.
TASTING NOTES
Aroma
The aroma is dominated by a prominent vanilla presence, accompanied by deep and complex maltiness. The malt profile offers notes of dark fruit and nuttiness; a medium alcohol scent adds depth.
Appearance
This beer pours a clear amber brown, with no head formation.
Flavor
A Saying of Prayers offers a rich and deeply malty flavor profile featuring dark fruits, nuts, cacao nibs, and chocolate. The moderately high alcohol presence is complemented by subtle notes of red wine, wood, and peppery spice. The beer has a high level of bitterness, balanced by a medium-low sweetness. The wood and wine elements contribute to a dry character, while the long-lasting aftertaste lingers with wood, cacao nibs, lychee, and a warming alcohol sensation.
Mouthfeel
This English Barleywine has a full body, providing a substantial and satisfying mouthfeel. The carbonation level in this beer is low, allowing the flavors to take center stage without being overpowered by effervescence.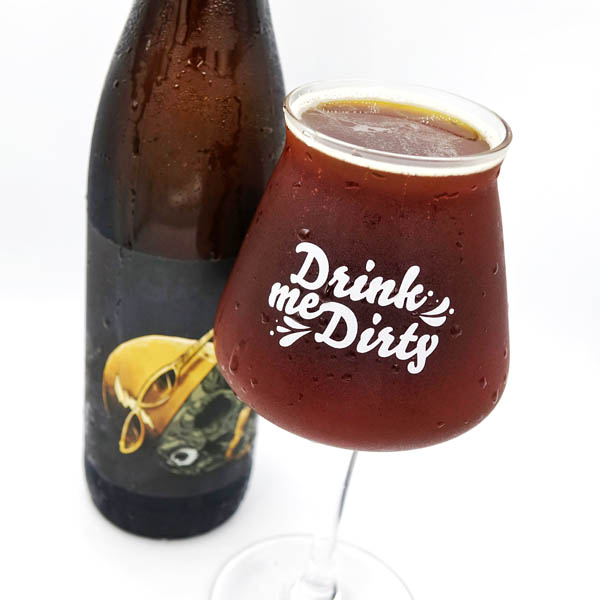 THE VERDICT
A Saying of Prayers is an excellent interpretation of the style with a deep and complex profile of dark fruits and malts. The addition of vanilla adds a touch of approachability and soothing qualities, while the malt presence remains full-bodied. The wine profile provides an accent without introducing unwanted sourness. The presence of wood acknowledges the barrel-aging process, enhancing the overall experience.
Related Reviews:
Burial Beer Co.
J. Wakefield Brewing
Craft Beer From the United States