Name: Ryeway to Heaven
Brewer:  Revolution Brewing Company (United States)
Style: Specialty Wood-Aged Beer
ABV: 15%
Review Year: 2022
Ryeway to Heaven is a "Ryewine" by Revolution Brewing Company. This beer is a harmonious collaboration between bourbon and rye barrels, infused with unparalleled flavor. With over 60% rye in the brew, it offers distinct malt and barrel complexities.
Backlog review from April 2022.
STYLE GUIDELINES
This beer is being evaluated as a Specialty Wood-Aged Beer (33B) in the context of the 2021 Beer Style Guidelines of the Beer Judge Certification Program (BJCP). The most current version can be found on the BJCP website.
TASTING NOTES
Aroma
From the moment you bring the glass to your nose, enticing aromas of dark chocolate, toasted fig, toffee, rye, oak, and vanilla greet you. There is even a subtle hint of spice and licorice, adding depth to the aroma profile.
Appearance
Its ruby brown hue gleams, offering a glimpse into the flavors that lie within. A thin yet persistent off-white head crowns the beer, creating an inviting presentation.
Flavor
This beer offers a complex profile featuring wine, oak, toffee, barley, dark chocolate, and a pleasing touch of brown sugar and licorice. Vanilla and a hint of peppery heat were noted. The bitterness is moderate, perfectly complementing the malty sweetness. Notably, there are hints of whisky and a woody character, that lend sophistication to the overall taste. The finish is long and memorable, leaving behind chocolate, nuts, whisky, wood, vanilla, and a touch of peppery heat.
Mouthfeel
This beer boasts a medium-full body, which lends it a satisfying weight in the mouth. The carbonation level of Ryeway to Heaven leans towards medium-low. This gentle effervescence complements the beer's character, enhancing the overall drinking experience without overpowering the complex flavors.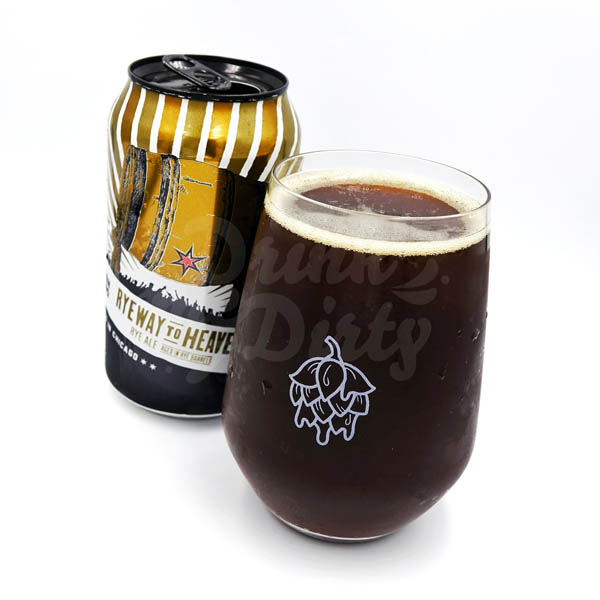 THE VERDICT
In summary, Ryeway to Heaven is an excellent "Ryewine" that delivers a heavy, complex, yet pleasant sipping experience. It is the perfect companion for colder weather, as its rich flavors and warming characteristics make it a true delight to savor. Whether you are a fan of rye or barley-based beers, this unique blend is sure to captivate your taste buds and leave a lasting impression.
Related Reviews:
Revolution Brewing Company
Craft Beer From the United States