Name: The Weight of Brunch (Bourbon BA)
Brewer: Burnt Mill Brewery, Mikkeller
Style: Spice, Herb, or Vegetable Beer (Base Style: Imperial Stout)
ABV: 10%
Review Year: 2022
In November 2019, Burnt Mill Brewery from the UK and the renowned Danish brewery Mikkeller joined forces for a special collaboration in the form of this remarkable variant of The Weight of Brunch aged in Bourbon oak barrels. This Imperial Stout is the result of blending two beloved Imperial Stouts from each brewery: Mikkeller's Beer Geek Brunch and Burnt Mill's Weight of Gold. This Imperial Stout was then aged in oak barrels that previously held Bourbon before receiving an additional infusion of natural process coffee through a cold steeping technique.
Backlog review from January 2022.
STYLE GUIDELINES
This beer is being evaluated as a Mixed-Style Beer (34B) combining Spice, Herb, or Vegetable Beer (30A) and Specialty Wood-Aged Beer (33B) with the Imperial Stout (20C) as the base style in the context of the 2021 Beer Style Guidelines of the Beer Judge Certification Program (BJCP). The most current version can be found on the BJCP website.
TASTING NOTES
Aroma
This beer emanates a strong and enticing aroma, dominated by rich notes of dark chocolate. Accompanying this are distinct hints of grapes, lychees, and a subtle touch of oak.
Appearance
Opaque deep brown, bordering on black, color; thin brown head.
Flavor
The Weight of Brunch showcases the prominence of dark chocolate, delivering a robust and indulgent experience. Fruity coffee notes add a delightful complexity, accompanied by molasses and licorice. Lychees and grapes make their presence known, adding a fruity twist. Hints of vanilla, whisky, and oak enhance the overall flavor profile, providing a subtle yet distinct layer of complexity. The balance favors the moderately high bitterness relative to the moderate sweetness. Finished long with an intriguing blend of oak, dark chocolate, and lychee.
Mouthfeel
This beer boasts a full-bodied mouthfeel that stays true to its style. Low carbonation makes this beer a brunchtime sipper.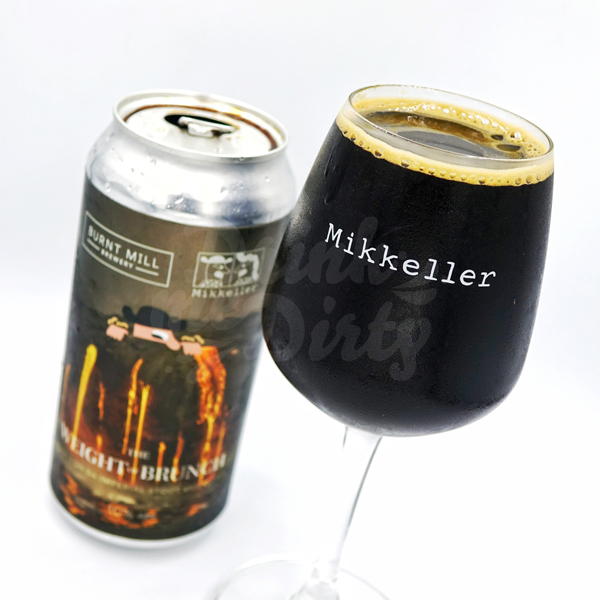 THE VERDICT

The Weight of Brunch (Bourbon BA) is an outstanding rendition of its style, impressing with its roasty, chocolatey, and subtly fruity coffee character. Interestingly, the wood note becomes more pronounced in the finish, further elevating the drinking experience. Despite its high ABV, this beer avoids any overpowering alcoholic flavors, providing a smooth and enjoyable drinking experience.
For those seeking a dark, bold, and robust beer with layers of flavor complexity, this BA version of The Weight of Brunch delivers on all fronts; it is a standout choice for enthusiasts of the style.
Related Reviews:
Burnt Mill Brewery
Mikkeller
Craft Beer from the UK
Craft Beer from Denmark