Name: Cryptic Message
Brewers: Cerebral Brewing (United States)
Style: Wood-Aged Beer (Base Style: Schwarzbier)
ABV: 5.5%
Review Year: 2022
Cryptic Message is a foeder-fermented Schwarzbier by Cerebral Brewing (Colorado). This wood-conditioned German-style dark lager was brewed with a malt bill composed of Pilsner, Maris Otter, Caramunich, Black Malt, and Chocolate Wheat and was hopped with Hersbrucker.
STYLE GUIDELINES
This beer is being evaluated as a Wood-Aged Beer (33A) with the Schwarzbier (8B) as the base style in the context of the 2021 Beer Style Guidelines of the Beer Judge Certification Program (BJCP). The most current version can be found on the BJCP website.
TASTING NOTES
Clear ruby brown; tan head with fair retention. On the nose: moderately high fragrant dark chocolate, dark roast coffee, grains meld with some indistinct spice. Light-medium-bodied, moderate carbonation, with subtle astringency likely from the wood. This Schwarzbier unveiled a malt-forward flavor profile composed mainly of roasty, toasty, and grainy malts (e.g., coffee, cacao nibs, toasted bread) at moderately high levels with hints of chocolate and cola. Wood was notable albeit subtle and pleasant. Balance favored bitterness (moderately high) relative to sweetness (low). Finished on the dry side: lingering notes of cacao nibs, dark roast coffee, and some wood.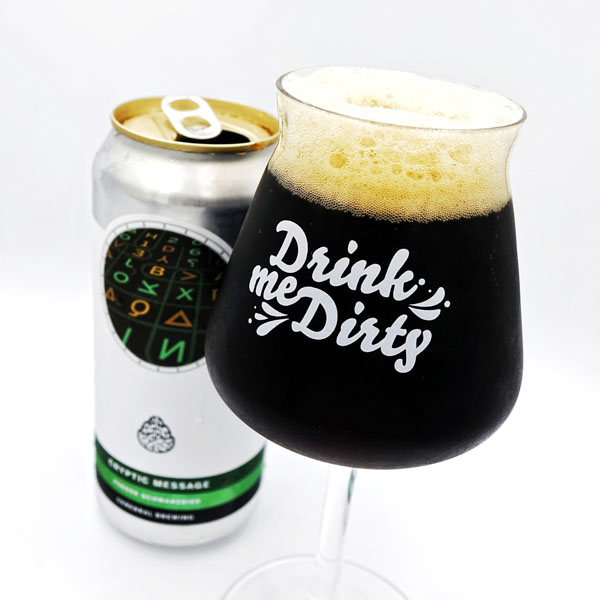 THE VERDICT
Cryptic Message is a soothing German-style dark lager that highlighted mainly dark malty aromas of chocolate, coffee, and toasted bread sans any burnt character. It appears to be slightly more flavorful and bitter than a traditional Schwarzbier and the foeder may have likely contributed the low astringency and subtle wood flavor.
Cryptic Message is for those drinkers that want a palatable and refreshing lager but are craving for fine dark chocolate and black coffee on a rainy day. Excellent.
Related Reviews:
Cerebral Brewing
Craft Beer From the United States
Co-Founder & Beer Chronicler