Name: Eclipse w/ Honey (2013)
Brewer: FiftyFifty Brewing Co.
Style: Mixed-Style Beer (Base Style: Imperial Stout)
ABV: 11.9%
Review Year: 2022
FiftyFifty Brewing Co. from California presents the 2013 vintage of Eclipse with Honey. This exquisite beer is an oak barrel-aged Imperial Stout that incorporates the perfect touch of honey into its brewing process.
Backlog review from February 2022.
STYLE GUIDELINES
This beer is being evaluated as a Mixed-Style Beer (34B) combining Alternative Sugar Beer (31B) and Wood-Aged Beer (33A) with the Imperial Stout (20C) as the base style in the context of the 2021 Beer Style Guidelines of the Beer Judge Certification Program (BJCP). The most current version can be found on the BJCP website.
TASTING NOTES
Aroma
The aroma of Eclipse is a delightful combination of honey and dark chocolate, accompanied by supporting notes of toasted barley and oak. The honey scent is prominent, adding a touch of intrigue to the overall aroma.
Appearance
This Imperial Stout pours a deep brown color, almost black, creating a visually striking beer. It forms a brown head that adds to its appeal and invites you to take a sip.
Flavor
The flavor profile of Eclipse is a true treat for the senses: rich dark chocolate and nutty coffee notes, which create a robust foundation. Perception of wine and honey adds complexity and a touch of sweetness to the beer. Subtle hints of peppery spice and low wood undertones complement the overall taste. The bitterness is medium, providing a pleasant balance to the medium-high sweetness. The finish is long-lasting, lingering with a delightful combination of chocolate, honey, whisky, and a hint of peppery note.
Mouthfeel
Medium-bodied, which is a notch lower than beers of this style. The carbonation level of this beer is medium-low, contributing to its smoothness.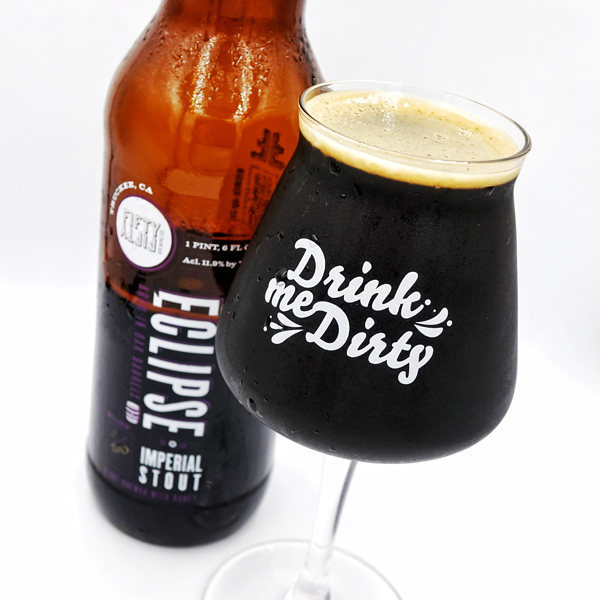 THE VERDICT

The 2013 vintage of Eclipse w/ Honey can rightfully be regarded as a grandfather of the modern ultra-sweet pastry stouts. This beer was ahead of its time, showcasing complex flavors derived from dark malts, oak aging, and honey infusion. Although the mouthfeel feels slightly thinner than other beers of this style, it is essential to note that Imperial Stout was already 9 years old at the time of consumption. This lengthy conditioning may have affected the beer's mouthfeel and consistency. Nevertheless, it remains an excellent beer that has stood the test of time and trends, commanding a good balance of allure and complexity.
Related Reviews:
FiftyFifty Brewing Co.
Craft Beer From the US