Name: Trium Faba (2019)
Brewer: Three Hills Brewing (United Kingdom)
Style: Spice, Herb, or Vegetable Beer (Base Style: Imperial Stout)
ABV: 11%
Review Year: 2022
Trium Faba (2019) is an Imperial Stout created by England's Three Hills Brewing. With a formidable 11% ABV, this brew features an appetizing blend of Tonka, Vanilla, and Cacao.
Backlog review from April 2022.
STYLE GUIDELINES
This beer is being evaluated as a Spice, Herb, or Vegetable Beer (30A) with the Imperial Stout (20C) as the base style in the context of the 2021 Beer Style Guidelines of the Beer Judge Certification Program (BJCP). The most current version can be found on the BJCP website.
TASTING NOTES
Aroma
Trium Faba greets the senses with an enticing aroma of cookies mingling with smoky and ash-like notes.  Cacao, nuts, and a hint of coffee add depth to the aroma.
Appearance
This beer pours with a thick off-white head that contrasts elegantly against its syrupy black body.
Flavor
This spiced Imperial Stout features notes of dark fruits (e.g., plums) and dark chocolate that meld harmoniously. The presence of cookies adds a touch of sweetness, while the inclusion of tonka lends a complex and intriguing element. The beer's roasty and charred qualities contribute depth and richness, rounding out the flavor profile with a delightful complexity.
Mouthfeel
Medium body and moderate carbonation; offers an approachable mouthfeel.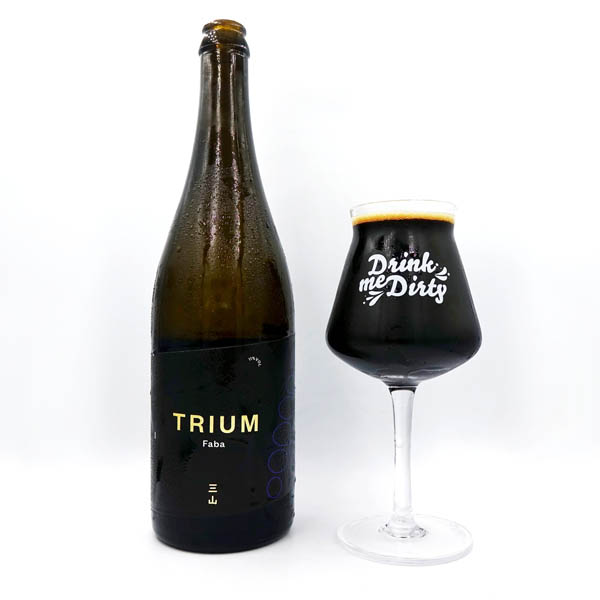 THE VERDICT

In our opinion, Trium Faba offers a highly commendable take on an Imperial Stout infused with spices. We found the integration of tonka, vanilla, and cacao to be beautifully balanced, resulting in a harmonious blend of aromas and flavors. The roasty and charred characteristics provided a solid flavor backbone. While the mouthfeel was slightly lighter compared to typical beers of this style, we believe it effectively showcased the key flavors without overwhelming the palate.
Related Reviews:
Three Hills Brewing
Craft Beer From the UK