Name: Hallucination (Pandemic Special)
Brewer: HideOut Craft Brewery (Philippines)
Style: Specialty Fruit Beer (Base Style: Fruit Beer)
ABV: 7.5%
Review Year: 2020
Hallucination is the signature "Mango Milkshake IPA" brewed by Tatz Ang of HideOut Craft Brewery. The pilot batch in 2019 was the first beer to be released in cans by the Cubao-based brewery. It has since made its comeback last week albeit brewed with a slightly different recipe featuring mango puree, Lupomaxx-type hops, lactose, and Spanish orange peels.
This year's Hallucination was also dubbed as the "Pandemic Special," which is a reference to the hour-long episode of South Park with the same title. To those who do not know what it means, we recommend strongly you not find out any more.
Read More: Hopman: Ales of Suspense
STYLE GUIDELINES
This beer is being evaluated as a Specialty Fruit Beer (29C) with Fruit Beer (29A) as the base style in the context of the 2015 Beer Style Guidelines of the Beer Judge Certification Program (BJCP). The most current version of the guidelines can be found on the BJCP website.
TASTING NOTES
Hazy pale gold; thick foamy white head. Fruity-floral and citrus aromas paint the nose– think of ripe cantaloupe with mango and orange peel underpinnings. Light-medium bodied, moderately carbonated; fruit juice-like mouthfeel. Flavors burst with sweet mango, ripe cantaloupe, and a hint of orange marmalade; supportive bready malt character. Bitterness is not the main feature but manifests as pine-like. The familiar flavors meld in the aftertaste; leaves the palate slightly sticky.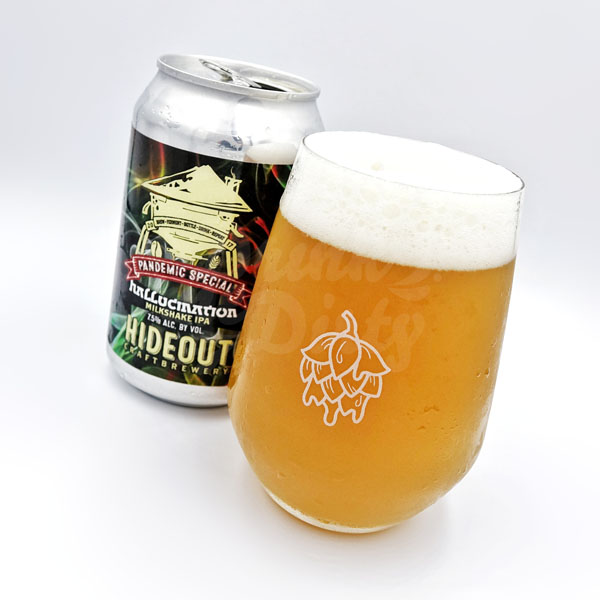 THE VERDICT
Very good. Overall, Hallucination (Pandemic Special) is a very drinkable beer that showcases sweet ripe fruit characters, which may have been accentuated by the lactose addition. Compared to the original Hallucination, this year's version is noticeably lighter on the palate. The fruity-floral and cantaloupe notes are also reminiscent of Hideout's Hoppy Lager. We think the sweetness is still at a level where it is supportive of the juicy ripe fruit characters; however, it might be too sweet for the others.
Read More: Hideout Craft Brewery "Hoppy Pilsner" Lager
Follow HideOut Craft Brewery on Instagram for more updates.
Co-Founder & Beer Chronicler