Name: Onheilsprofeet BA Bunnahabhain & Bowmore Whisky
Brewer: Jopen (Netherlands)
Style: Specialty Wood-Aged Beer (Base Style: Imperial Stout)
ABV: 12.5%
Review Year: 2022
Onheilsprofeet BA Bunnahabhain & Bowmore Whisky, true to its name, is the smoky barrel-aged Imperial Stout crafted by Jopen from the Netherlands. This highly-potent beer is tailored for those who have a deep appreciation for the peated side of whisky.
Backlog review from January 2022.
STYLE GUIDELINES
This beer is being evaluated as a Specialty Wood-Aged Beer (33B) with the Imperial Stout (20C) as the base style, in the context of the 2021 Beer Style Guidelines of the Beer Judge Certification Program (BJCP). The most current version can be found on the BJCP website.
TASTING NOTES
Aroma
Onheilsprofeet entices with a rich aroma reminiscent of dark chocolate syrup and malty/nutty cacao nibs. Notes of grapes/prunes/cherries and whisky add complexity to the olfactory experience.
Appearance
This beer pours as an opaque deep brown liquid, concealing its contents within. It features a thin head, displaying an enticing brown hue.
Flavor
Onheilsprofeet mesmerizes the palate with bold notes of cacao nibs and grapes. Subtle earthy undertones contribute depth and complexity to the flavor profile, while a delicate infusion of tobacco and subtle smoky whisky add more character. A moderate-high level of bitterness harmonizes with a medium sweetness. The finish leaves a lasting impression, with an intricate tapestry of flavors of roasted cacao, whisky, and dark fruit.
Mouthfeel
Medium-full body; moderate carbonation.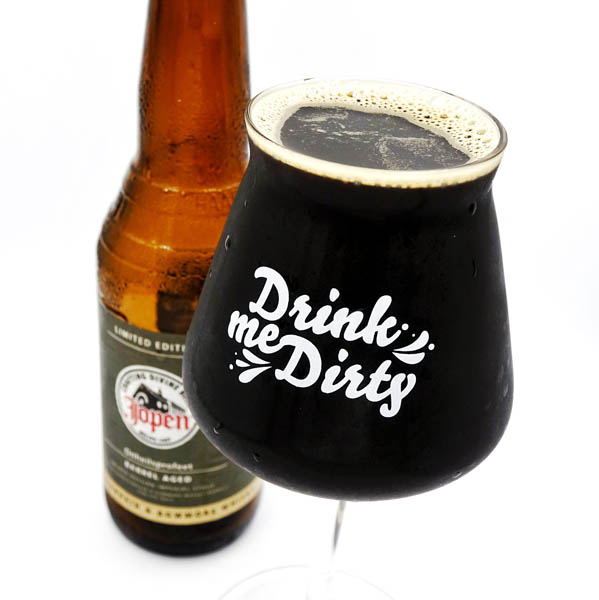 THE VERDICT

Onheilsprofeet is a commendable example of a barrel-aged Imperial Stout that delivers on several fronts. However, it could benefit from a stronger dark and roasty malt backbone, as the flavors lean more towards tobacco, earthiness, and dark fruits. A more pronounced presence of both barrel and whisky would elevate the overall experience in our opinion. Nonetheless, this variant of Onheilsprofeet offers a satisfying drinking experience.
Related Reviews:
Jopen
Craft Beer From the Netherlands