Name: Squishy
Brewers: New Image Brewing, Outer Range Brewing Co. (United States)
Style: Specialty IPA: New England IPA
ABV: 7.5%
Review Year: 2021
Colorado's New Image Brewing and Outer Range Brewing Co. teamed up for Squishy, an IPA that features Citra Incognito, Citra, Galaxy, and Columbus hops.
STYLE GUIDELINES
This beer is being evaluated as a Specialty IPA: New England IPA (21B) in the context of the provisional guidelines of the Beer Judge Certification Program (BJCP) for the said beer style. The most current version of the guidelines can be found on the BJCP website.
TASTING NOTES
Hazy straw; white head with good retention. On the nose, Squishy is a prominent blend of herbs (basil, spearmint), resin, and vibrant fruits (mango, passion fruit, orange); an apricot-like aroma intensified as the beer settled. Medium-bodied, moderately carbonated, with a slightly watery texture. An assertive spearmint-like herbal/ leafy character was joined by orange, mango, peach, and juicy gum.  A moderately low bready malt backbone supported. Sweetness, at a moderate level, was favored in the balance over the bitterness, which was perceived at a medium-low level. The aftertaste lingered with the faint yet familiar orange citrus and spearmint-like herbal character.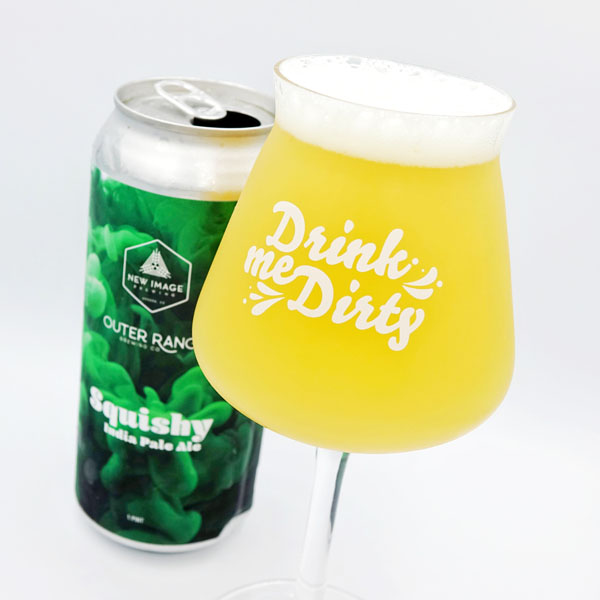 THE VERDICT
Squishy melds herbal and resin-like qualities with bright tropical and citrus fruits with a touch of juicy gum. It is not every day that you would encounter a hazy beer with this combination of aromas and flavors. Like most beers of this style, this Colorado collab maintains that refreshing and drinkable character; however, we think the mouthfeel could still be improved on. Overall, very good.
Related Reviews:
New Image Brewing
Outer Range Brewing Co.
Beers From the United States
View this post on Instagram
Co-Founder & Beer Chronicler