Name: Barrel Aged Imperial Oatmeal Milk Stout (2021)
Brewer: Finkel & Garf Brewing Company (United States)
Style: Mixed-Style Beer (Base Style: Imperial Stout)
ABV: 11.4%
Review Year: 2021
Finkel & Garf Brewing Company (Colorado) took their Double Mash Imperial Oatmeal Milk Stout and rested it for 11 months in Bourbon-finished Pedro Ximénez (PX) Sherry casks from Breckenridge Distillery. The result is this rich and silky smooth Barrel-Aged Imperial Oatmeal Milk Stout.
STYLE GUIDELINES
This beer is being evaluated as a Mixed-Style Beer (34B), combining Specialty Wood-Aged Beer (33B), Oatmeal Stout (16B), and Sweet Stout (16A), with Imperial Stout (20C) as the base style in the context of the 2015 Beer Style Guidelines of the Beer Judge Certification Program (BJCP). The most current version of the guidelines can be found on the BJCP website.
TASTING NOTES
Pours like motor oil with a thin brown head. Intense PX Sherry aromas were diffused immediately upon opening; think of rich raisins, dried figs, cocoa powder, coffee, nuts, anise, and licorice with a low bourbon-like booziness, which was notable as the beer settled. Full-bodied, moderately low carbonation; smooth mouthfeel with a hint of alcohol and astringency. Like the aroma, the flavor exploded with the noted PX Sherry impressions, supported by a malt backbone that featured roasty coffee, dark chocolate, and slightly nutty. Subtle wine-like acidity and oak enhanced the PX Sherry flavors. The balance favored the moderately high bitterness relative to the residual sweetness (medium-low). The aftertaste lingered long with bittersweetness, PX Sherry, oak, and some oats.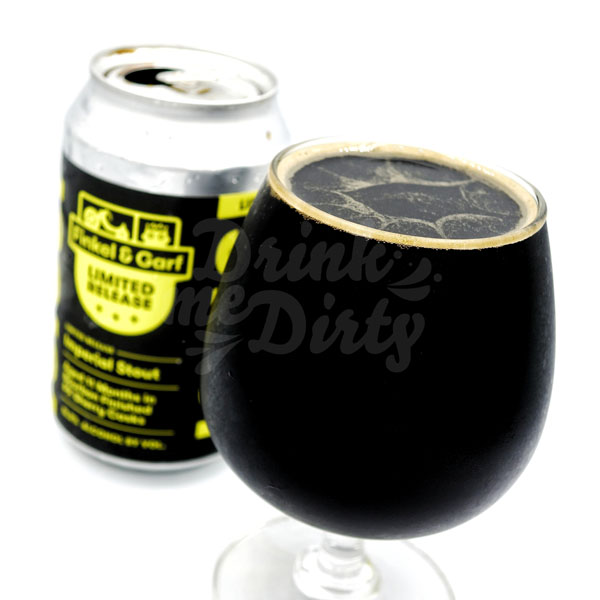 THE VERDICT
Barrel Aged Imperial Oatmeal Milk Stout (2021) is a Sherry bomb; it is exactly what you would imagine when a highly potent, dark, and roasty Imperial Stout meets the complexity of PX Sherry and bourbon. There is more to this beer than a typical boozy Imperial Stout conditioned in specialty wood. Its mouthfeel is quite unique, combining the smoothness of an Oatmeal Stout with the subtle alcohol and tannin of a Specialty Wood-Aged Beer.
Bitterness was also spot on and enhanced the dark and roasty flavors of this beer. At the same time, this character toned down any cloying sweetness. Simply outstanding and a very memorable brew.
Related Reviews:
Finkel & Garf Brewing Company
Beers from the United States
View this post on Instagram