Name: Sky Burial Bourbon Barrel Aged
Brewer: Warpigs Brewpub/Mikkeller (Denmark)
Style: Specialty Wood-Aged Beer (Base Style: American Barleywine)
ABV: 9.7%
Review Year: 2022
Warpigs Brewpub by Mikkeller in Denmark presents this bourbon barrel-aged version of their American Barleywine, Sky Burial. This heavy sipper clocks in at 9.7% ABV.
Backlog review from April 2022.
STYLE GUIDELINES
This beer is being evaluated as a Specialty Wood-Aged Beer (33B) with the American Barleywine (22C) as the base style in the context of the 2021 Beer Style Guidelines of the Beer Judge Certification Program (BJCP). The most current version can be found on the BJCP website.
TASTING NOTES
Aroma
The aroma is characterized by a moderately high presence of caramel and alcohol, accompanied by enticing accents of nutty cacao.
Appearance
Sky Burial Bourbon Barrel-Aged presents itself as a hazy medium amber beer. Permanent haziness and absence of a head are unusual in classic American Barleywines.
Flavor
The flavor profile is characterized by an intense nutty maltiness, which serves as the backbone of the beer. This dominant flavor is complemented by distinctive notes of orange peel, providing a pleasant vibrant twist. The bitterness is high, balancing the malt sweetness at a medium-low level. Subtle accents of oak and boozy bourbon create depth and complexity, enhancing the overall character. The dry finish is memorable, with the lingering presence of alcohol and orange peel, leaving a lasting impression on the palate.
Mouthfeel
Sky Burial Bourbon Barrel-Aged delivers a full-bodied experience that coats the palate with its richness; carbonation is low. Overall mouthfeel is style-appropriate.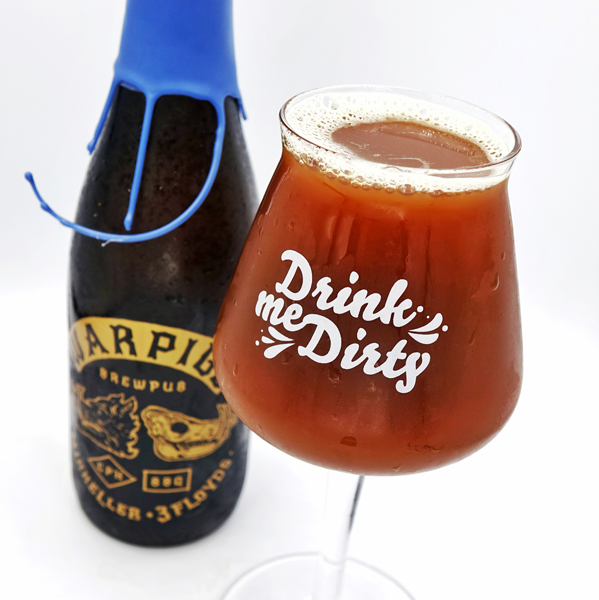 THE VERDICT

Sky Burial Bourbon Barrel-Aged is a highly commendable interpretation of a bourbon barrel-aged American Barleywine with its robust malty, bitter, slightly citrusy, and boozy profile. It stands out as a heavy and sipping beer that showcases a robust and nutty malt foundation. The influence of American hops is evident through the presence of orange peel. Whisky and wood accents further elevate the complexity.
Related Reviews:
Warpigs Brewpub
Craft Beer from Denmark