Name: Kollaps
Brewer: Wayfinder Beer (United States)
Style: Kölsch
ABV: 4.7%
Review Year: 2021
Kollaps is the interpretation by Wayfinder Beer (Portland) of a Kölsch, the classic cold-fermented German beer style brewed with top-fermenting ale yeast.
STYLE GUIDELINES
This beer is being evaluated as a Kölsch (5B) in the context of the 2015 Beer Style Guidelines of the Beer Judge Certification Program (BJCP). The most current version of the guidelines can be found on the BJCP website.
TASTING NOTES
Clear straw, medium white head that did not last long. The nose was primarily lightly grainy and malty with subtle accents of pear, spicy hops, and white wine. Medium-light-bodied; moderately high carbonation. Kollaps translated the aroma into the flavor with moderately grainy-sweet, and lightly bready flavors at the forefront. Background impressions of wine, pear, and floral hops were noted. Bitterness was a notch below medium, while sweetness was low. The aftertaste lingered with the familiar pear and a touch of sulfur-like character.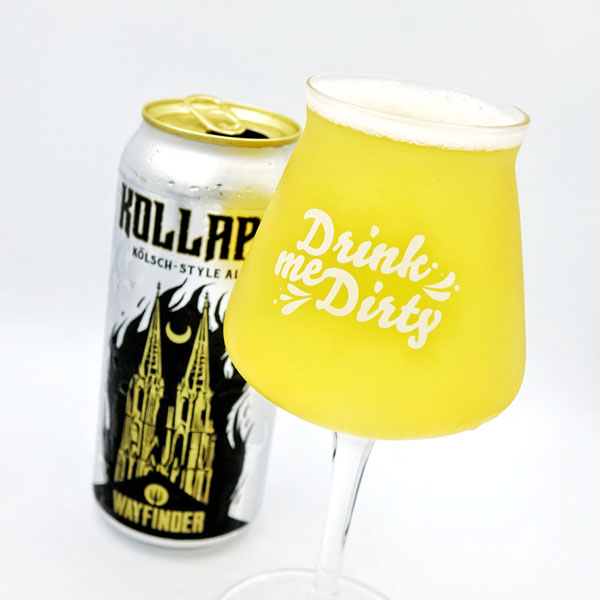 THE VERDICT

Kollaps is an excellent take on a classic Kölsch and melded primarily grainy maltiness with delicate fruity, spicy, and white wine-like qualities. It is crisp, refreshing, and one that could be enjoyed at any time of the day.
Related Reviews:
Wayfinder Beer
Craft Beer from the United States
View this post on Instagram
Co-Founder & Beer Chronicler