Six craft breweries from the Philippines battled it out for a chance to be crowned the first-ever A Half Baked JamBEERee People's Beer Champion last 12 October 2019 at Spektral Beer Lounge.
For this first leg of the competition, the rules were quite straightforward. Brewers must enter an IPA with six to seven percent alcohol-by-volume (ABV). The beers could be of any derivative of the style: American IPA or "West Coast IPA," New England IPA (NEIPA), Black IPA, and Belgian IPA to name a few. However, entries should be something brewers have never brewed or released before. Attendees of the event get to order a flight of all six entries and vote for their favorite entry. The beer with the most number of votes wins.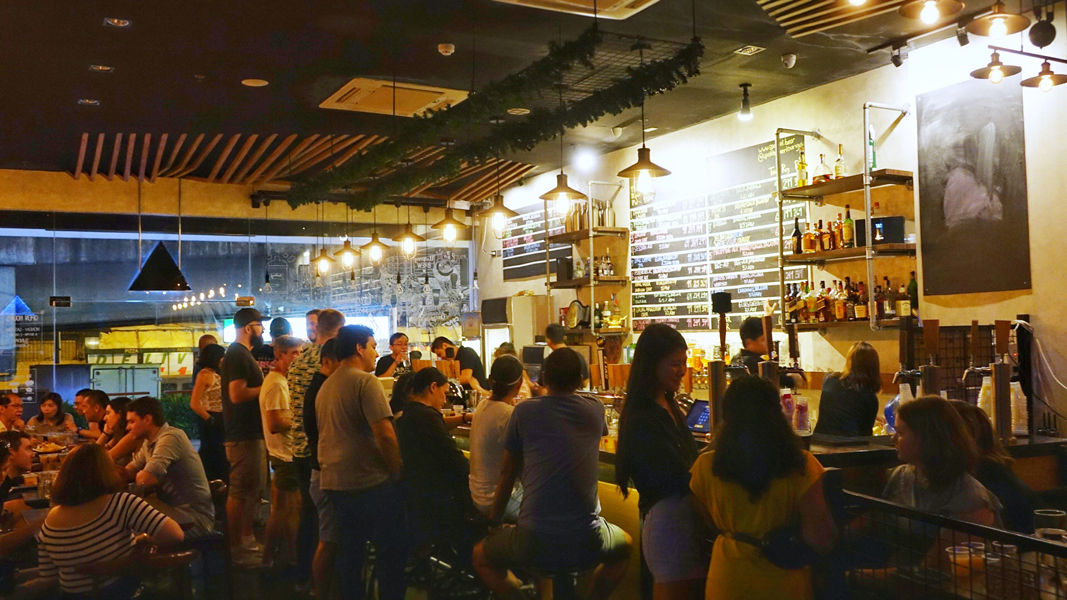 ---
THE CONTENDERS
Alamat Craft Brewery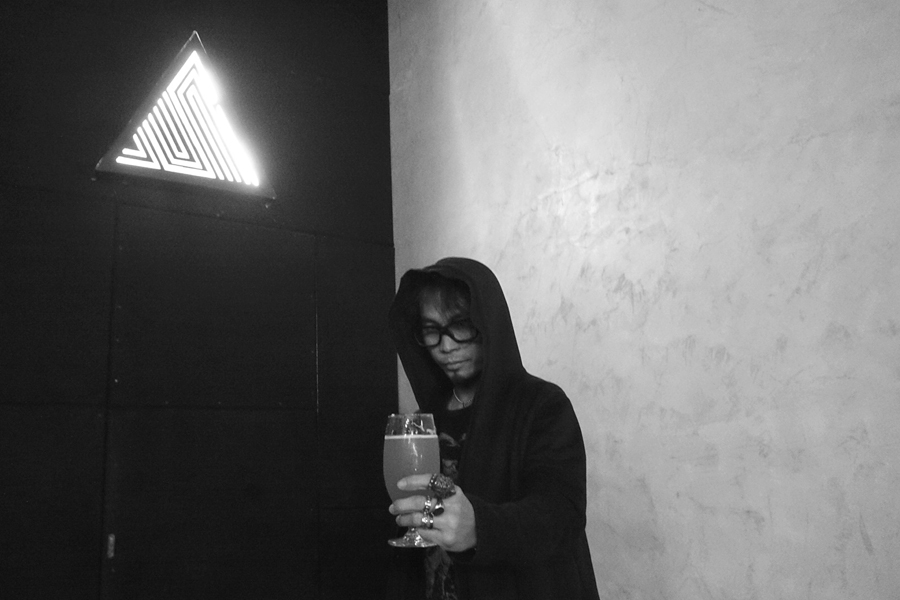 Alamat is known for beers inspired by Philippine mythology. With Agoni at the helm, this Marikina-based brewery has produced some of the country's unusual brews that include Manaul, an Adobo stout which takes after one of the iconic Filipino dishes. Last year, Agoni also brewed Lewenri Rascal IPA, a hazy New England-style beer brewed with food-grade glitters. For the JamBEERee, we think Agoni will showcase an IPA using homegrown spices.
Amigos de la Playa Craft Brewery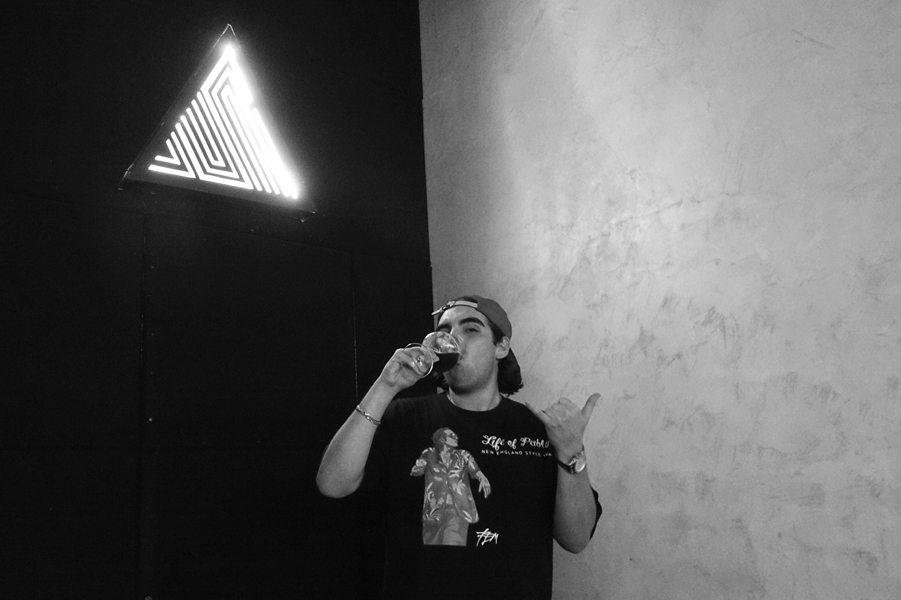 Jaime Larrauri represents the Amigos squad at the JamBEERee. Amigos de la Playa Craft Brewery was born on the shores of Boracay Island. Although they currently brew in Manila, the beach life has never left the boys as they continue to incorporate refreshing tropical flavors in their beers as evident in their flagship hazy New England IPA, Life of Pablo. We think their entry to the competition would be another hazy beer worthy enough of being called Pablo's evil twin brother.
Elias Wicked Ales & Spirits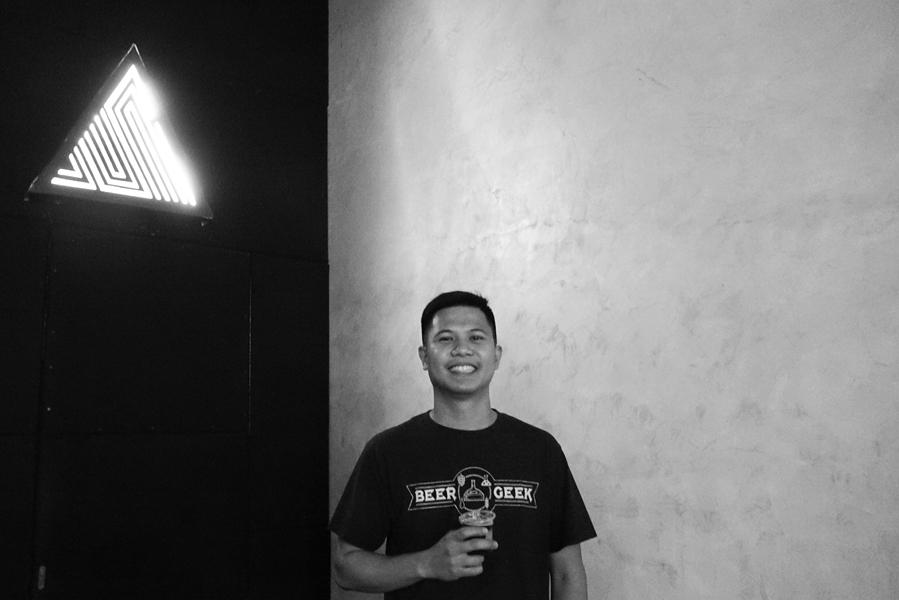 Elias head honcho, Raoul Masangcay is a Certified Cicerone (the sommelier counterpart for beer) and a Beer Judge Certification Program (BJCP) Certified Beer Judge. Elias is one of the larger players in the Philippine craft beer scene, now operating with two breweries in Quezon City and in Paranaque. This was a result of its acquisition of Belale Inc. a couple of months back. Aside from craft beers, Raoul also brews ciders. One of his notable ciders is the Swabe raspberry hard cider that sported a majestic purple color. For this competition, we did not dismiss the possibility of Raoul brewing an IPA with a similar color with his Swabe raspberry hard cider.
Half Baked Brewing Collective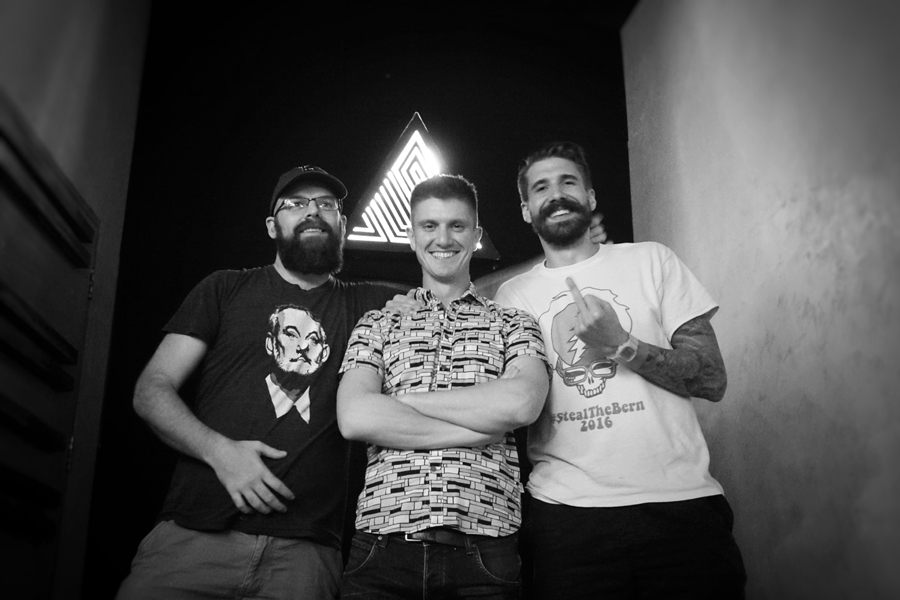 The Half Baked triumvirate is made up of Luke Davidson (pictured left), Bradley Hill (middle), and Chris Crum (right). If you have been following our features, the Half Baked Chronicles, by this time, you should already have an idea of the types of experimental brews they make. It was a challenge coming up with our a priori expectations for these guys. However, we would be delighted if they surprised us with an IPA version of Blues Clues, an American pale ale Chris brewed with Medusa hops.
HideOut Craft Brewery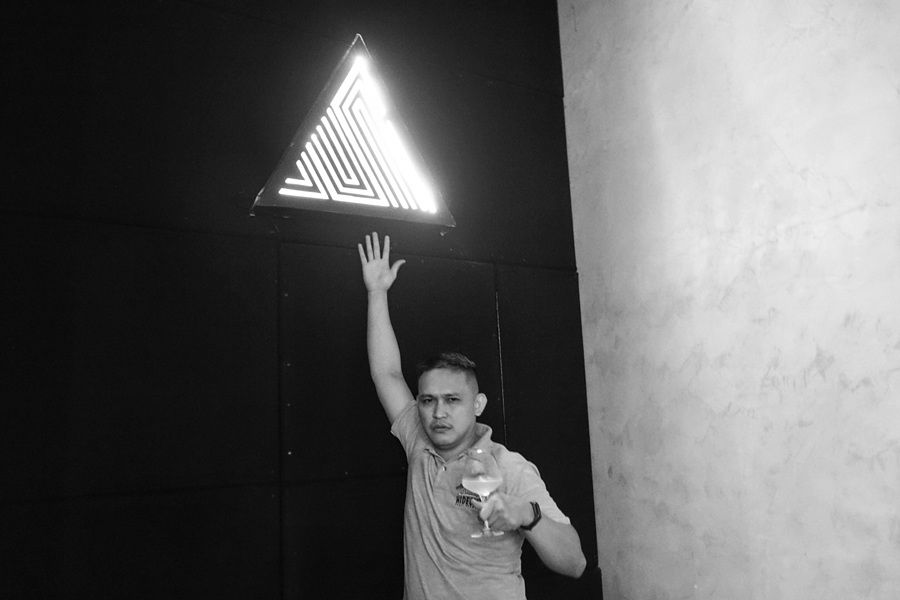 HideOut head brewer, Tatz Ang is known for his single-hopped Specialty IPAs.  These are beers that bring out individually the salient characteristics of the hop varieties used. Further, Tatz is one of the first craft brewers who shifted from bottling to canning beers. His latest brewing obsession with fruit purees has so far yielded very juicy beers. And this is one of the many reasons why we think his beer at the JamBEERee would be a nectar-like beer brewed with fruit puree.
The Marc's & Tony Brewing Company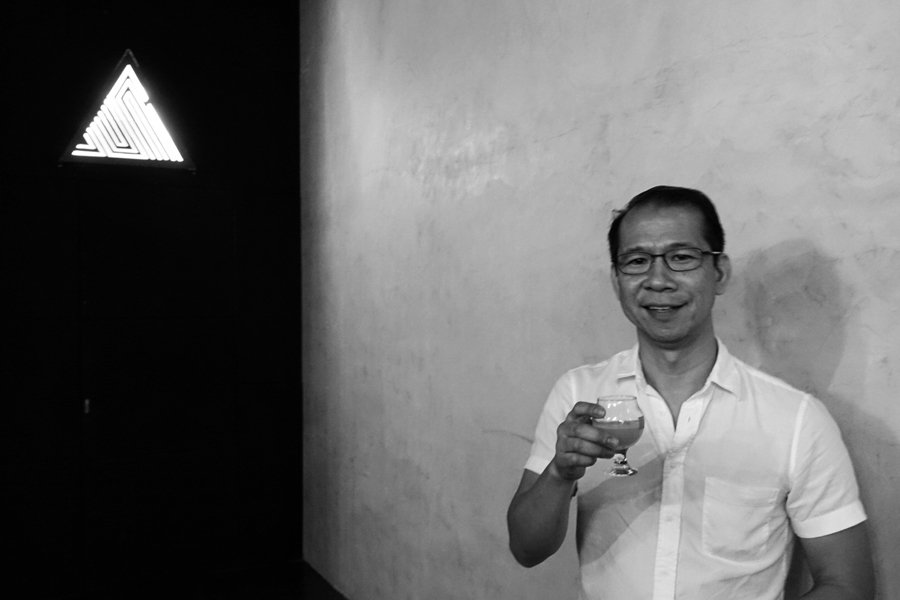 Despite entering the competition without a brewing title, Tony Sindayen has already established himself as one of the champions of the hazy and juicy New England style in the Philippines. Tony is going all out this year with outturn after outturn of dangerously drinkable beers. These include the flagship, Andromeda, the tandem release, Hop Bombs and Tropic Jam, and the collaboration with HideOut, Route to name a few. Last week, he released Mosaic Dreams and Pure Nectar, two hazy beers that we suspect were brewed with lactose. This, among other reasons, is why we think Tony will bring a cloudy milk sugar NEIPA to the competition.
---
THE BEERS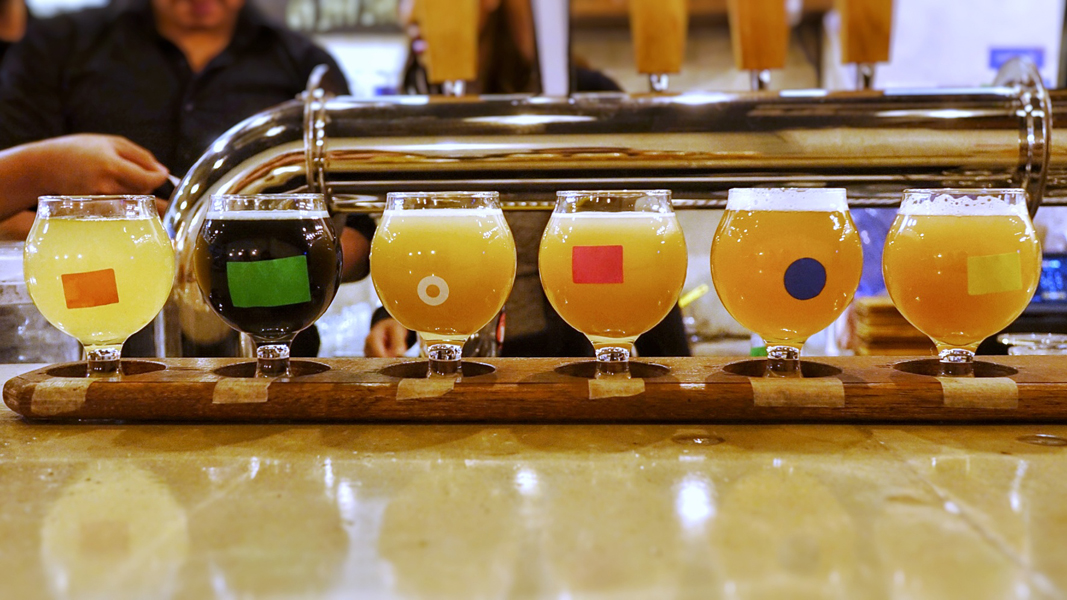 Orange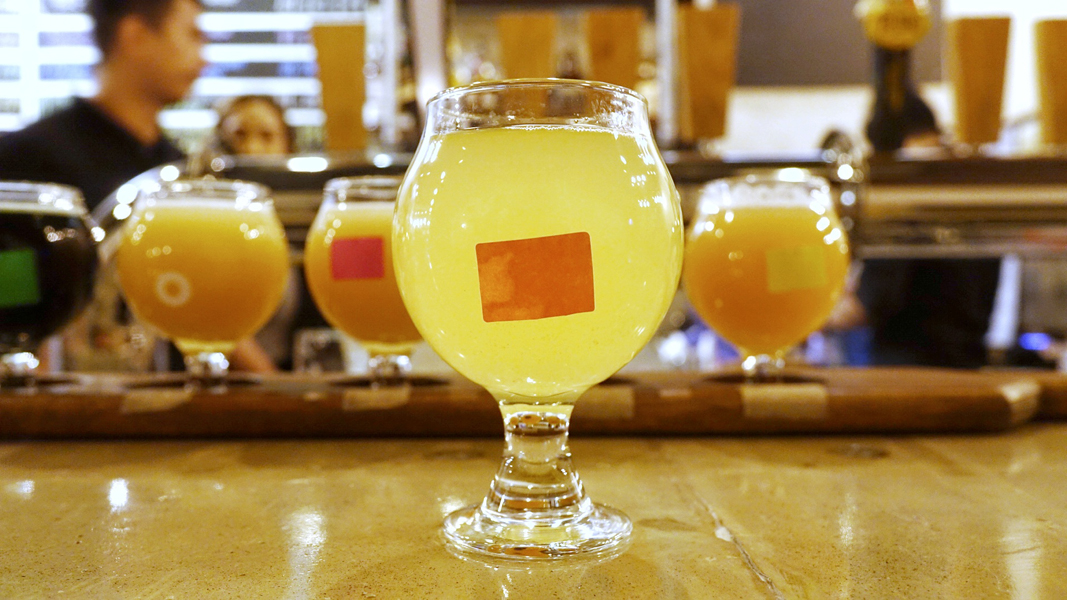 The first in the flight is a murky pastel yellow beer. The nose picked up faint notes of sweet mangoes. On the palate, this beer is somewhat light-bodied, with vegetal bitterness blending well with pecan nuts and sourdough. A familiar profile from the palate lingers after the first sip.
Green

This second entry looks like the wildcard with its opaque blackcurrant shade. We could not help but guess that actual blackcurrant or blackberries were used to make this beer dark in color. However, after the competition, the brewer revealed that he actually used odorless and flavorless squid ink to make this uncanny IPA. The nose evoked notes of roasted malts, cereals, and fresh plums. Meanwhile, this beer is medium-bodied, returning slightly acidic notes of blackberries and blueberries. Interestingly, there is also a faint note of sourdough at the back end. After a sip, the palate feels dry, of puckery grapes.
White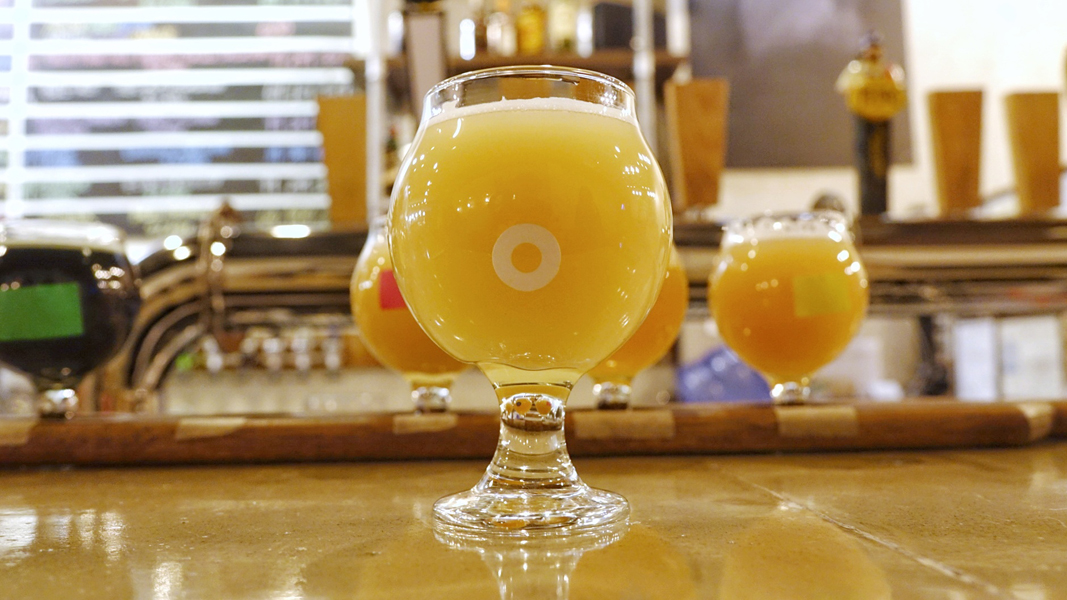 The third beer is an eye candy: a cloudy pastel yellow-orange liquid that shimmers in the glass. We picked up aromas of banana bread, some strawberry, and gingerbread. This beer is medium-bodied with a semi-pillowy mouthfeel. Very faint notes akin to yeast or bread, esters, banana, and black peppers paint the palate of this beer. This third entry has given us an impression of a very young beer.
Pink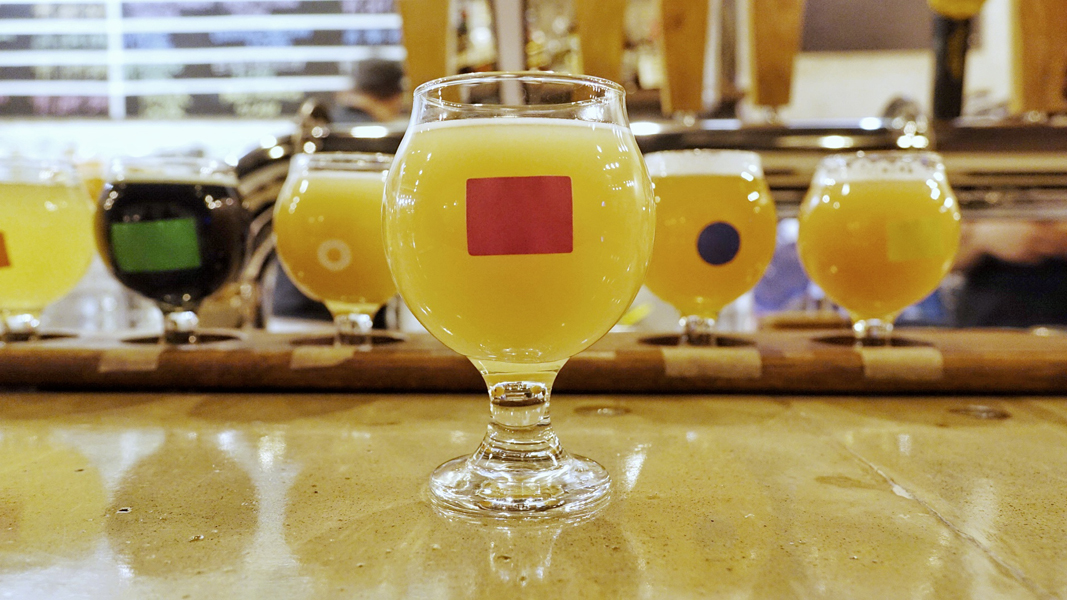 From its hazy yellow-orange appearance, this fourth entry is, without a doubt, a New England-style IPA. The olfactory receptors get a jolt with an initial whiff of pickled green mango, ripe mango peel, and dalandan (blood orange). Like most of the other entries, this beer is medium in body. Further, the palate makes up for the sharp aromas with mellow sweetness from strawberries, cherries, and milk sugar. These are then followed by a mosaic of indistinct overripe fruits. While the suspected lactose addition made its presence felt on the palate, its bitter side revealed itself as it lingered after the sip. This is balanced out further by overripe fruits.
Blue
The penultimate entry is noticeably less hazy than the other entries and is orange-yellow in color. At the onset, the nose picked up honey-like notes accompanied further by sweet oranges and dessert bread. This beer is light-medium in body with flavors akin to pulpy orange juice, grapefruit, bread, green tea, and caramel sweetness. Its finish is dry, returning notes of more bread and Mandarin oranges. Overall, it is a drinkable beer despite having a complex flavor profile.
Yellow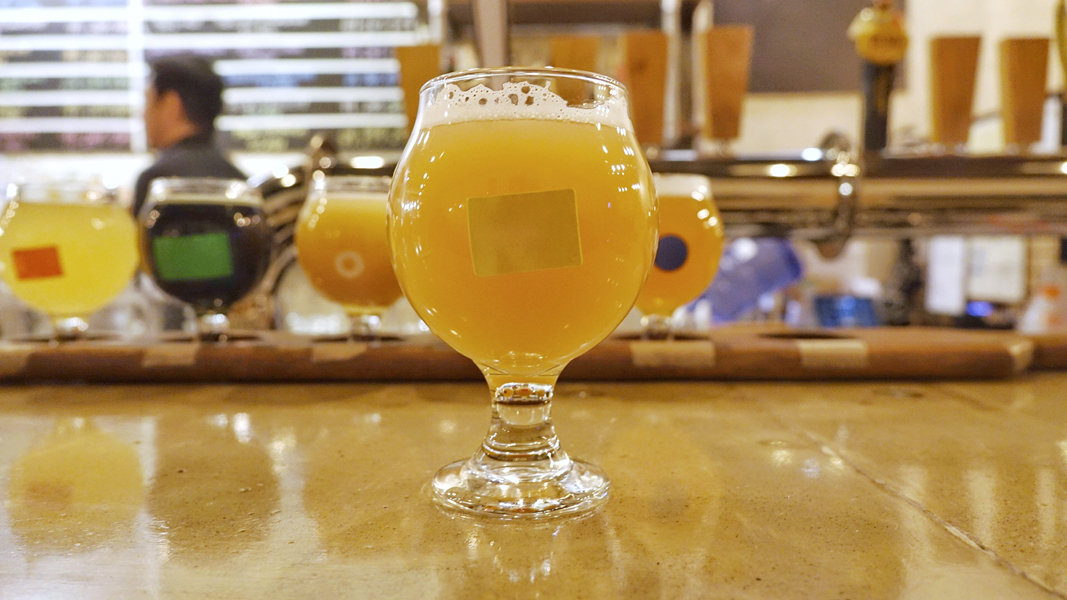 The sixth and last entry is a beer donned in hazy orange-yellow color. An interesting profile of mango shortcake, gummy geckos, and cream characterizes the nose. The palate of this medium-bodied beer further excites with flavors reminiscent of marshmallows, orange juice, cream, caramel, candied oranges, and gummy worms. This beer leaves a sticky mouthfeel after the sip, with more fruity gummy candies weaving a lasting impression. However, its heightened flavors come at the expense of its drinkability.
---
THE VERDICT
The official tally of votes was provided by Spektral Beer Lounge. White, Green, and Orange composed the bottom half of the standings. Meanwhile, Yellow, the beer we like to call "Gummy Beer" led with a comfortable margin to finish third.
This leaves us with just two more entries, Pink and Blue, which make up collectively 72 percent of total votes. Pink is the hazy beer with a flavor profile akin to strawberries, cherries, and milk sugar. Meanwhile, Blue is the relatively less cloudy beer yet offered a more complex and tasty palate.
By a fine margin of four percent of total votes, Blue was named The People's Beer for the night.
---
THE PEOPLE'S BEER CHAMPIONS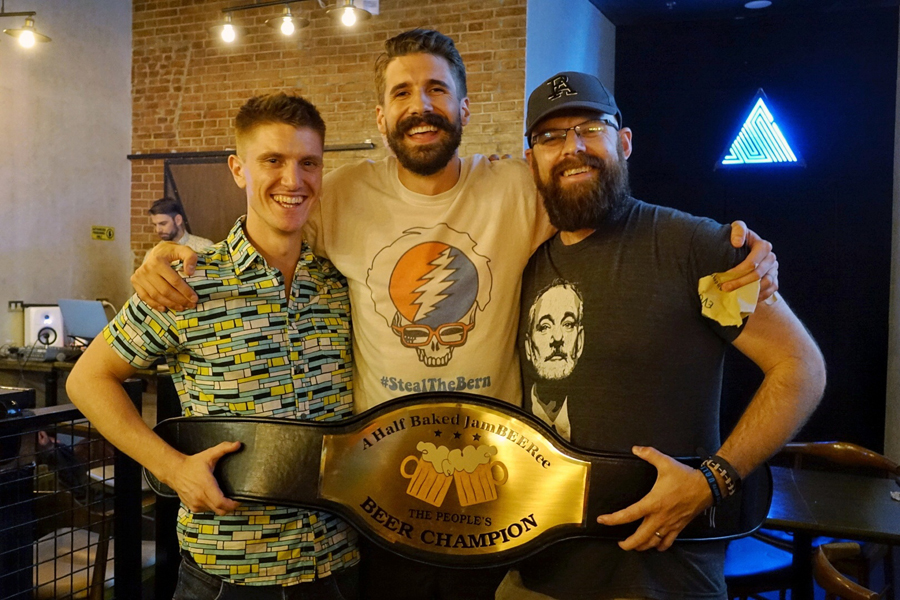 The creative geniuses behind the winning beer are Chris, Brad, and Luke of Half Baked Brewing Collective– proving once again that three heads are better than one. The winning beer is an IPA with 6.5 percent ABV and was brewed using a malt bill that included, among others, Pale Ale and Vienna. Citra, Sabro, and Columbus hop varieties contributed to the flavor and aroma profiles of this beer. Half Baked's entry was then fermented using a Vermont ale yeast strain.
According to Chris, they were already expecting hazy beers from the other contenders and decided to brew something that would stand out. Therefore, a beer with a classic West Coast IPA color but with very juicy characteristics would be a good bet. In retrospect, it was the right decision.
Can the Half Baked trio defend their title in the next JamBEERee? There is only one way to find out.