Name: Symphonie – Solera III (Lot 12032020)
Brewer: Brasserie Artisanale Ammonite (France)
Style: Wild Specialty Beer
ABV: 5%
Review Year: 2021
Symphonie – Solera III (Lot 12032020) is a cuvée from a perpetual blend of all the vintages of the solera system of Brasserie Artisanale Ammonite, a nano brewery in Burgundy, France specializing in spontaneous and natural fermentation with Simon Lecomte at its helm. Solera III features a 50-50 blend of ex-pinot noir and ex-chardonnay. One of 1,600 bottles.
STYLE GUIDELINES
This beer is being evaluated as a Wild Specialty Beer (28C) in the context of the 2015 Beer Style Guidelines of the Beer Judge Certification Program (BJCP). The most current version of the guidelines can be found on the BJCP website.
TASTING NOTES
Clear pale straw with no head. On the nose, Symphonie opened up with moderate lemon peel, white wine, apricot, with a touch of vanilla, oak, cinnamon, and apple. Light-medium-bodied, moderately low carbonation; subtle puckering quality. The flavor mirrored the aroma: think of a blend of fruits (lemon, white grapes, apple, and peach) of moderate-intensity with delicate acidity. A subtle oaky undertone was present, which was enhanced by the dryness (lack of residual sweetness) and the mentioned acidity. Bitterness was low, while the aftertaste lingered with lemon and oak.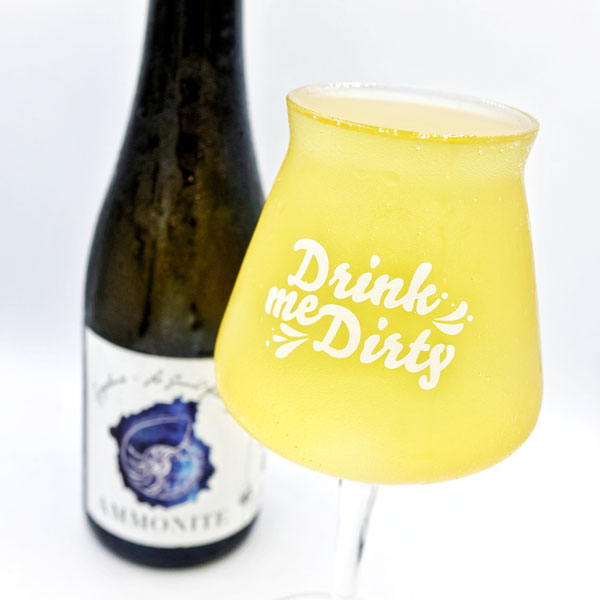 THE VERDICT
Wild ales, due to their idiosyncratic nature, are more challenging to benchmark vis-à-vis guidelines in our opinion. As perceived, this batch of Symphonie – Solera III is a masterpiece that balanced the vibrant, zesty, fruity, and wine-like qualities with the delicate acidity, wood, and dryness. The qualities imparted by the wood were only complementing and not dominating.
Acidity was present just enough for that fruit-enhancing tangy character and did not impair the drinkability of this beer. Even in warmer states, the acidity was unchanged virtually. Overall, we think Symphonie – Solera III is an outstanding barrel-aged blended sour beer. We now look forward to the other creations from Simon.
Related Reviews:
Brasserie Artisanale Ammonite
Beers From France
View this post on Instagram