Name: Siege of Liège
Brewer: Craftwork Brewery (New Zealand)
Style: Wild Specialty Beer (Base Style: Saison)
ABV: 7%
Review Year: 2022
Siege of Liège by Craftwork Brewery (New Zealand) is a mixed-fermentation barrel-aged Saison featuring Sirop de Liège. This beer was fermented using a French Saison yeast before being conditioned on two large oak puncheons with souring microbes, wild yeasts, and Liège sirop.
STYLE GUIDELINES
This beer is being evaluated as a Wild Specialty Beer (28C) with the Saison (25B) as the base style, in the context of the 2021 Beer Style Guidelines of the Beer Judge Certification Program (BJCP). The most current version can be found on the BJCP website.
TASTING NOTES
Clear deep gold, very thin white head (likely pouring technique-related). The aroma profile was unique: a medium-low fermented pear/white wine-like impression with hints of mineral, maple syrup, and wood. Medium-full-bodied; moderate carbonation. Flavor melded medium-low malty sweetness with mineral, oak, and fermented pears. Soft notes of peppery spices, coriander, and low lychee followed through. Bitterness and sweetness were both balanced at moderately-low levels. Finished on the dry side: lychee, spice, and a mineral note.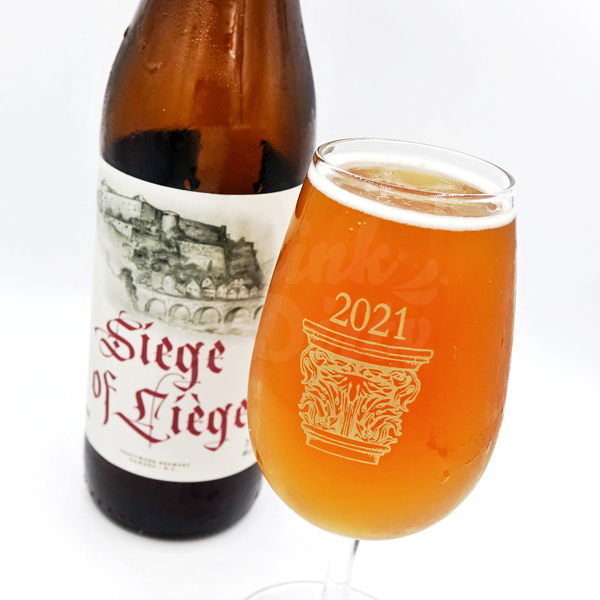 THE VERDICT
Like a picture, a beer can likewise paint a thousand words; Craftwork's Siege of Liège is a good example. This beer is like a classic Saison due to its fruity-spicy notes and a malty profile, but it also deviates from the said traditional style with the higher-than-usual residual sweetness. The noted fermented pears (aroma and flavor) also reminded us that still was a wild ale. Further, we enjoyed how this sour beer had tamed acidity giving more emphasis on the fruity-spicy and oak qualities. Sirop de Liège is not a familiar ingredient to us so we could not really comment on this.
The mineral aroma and flavor could still be toned down for a better presentation, but overall, we think this is a very good concept.
Related Reviews:
Craftwork Brewery
Beers From New Zealand