Name: PURPLE RICE LAGER- BATCH 2
Brewers: Evil Twin Brewing NYC (United States)
Style: Mixed-Style Beer (Base Style: American Lager)
ABV: 7%
Review Year: 2022
Evil Twin Brewing NYC teamed up with MáLà Project, a major propeller in popularizing Sichuan dry pot in New York, for this second batch of PURPLE RICE LAGER. This beer features more purple rice than the first batch, hopped with Hersbrucker, and was condition on American Oak.
STYLE GUIDELINES
This beer is being evaluated as a Mixed-Style Beer (34B) combining Wood-Aged Beer (33A) and Alternative Grain Beer (31A) with the American Lager (1B) as the base style in the context of the 2021 Beer Style Guidelines of the Beer Judge Certification Program (BJCP). The most current version can be found on the BJCP website.
TASTING NOTES
Pours clear amber brown beer; white head with good retention. A moderately malty aroma profile greeted with impressions of rice, bread, and honey. Subtle white grapes, aloe vera, and cherries followed. Light-Medium-bodied; moderately-high carbonation; smooth. Moderate grapes, roasted rice, and dough flavors were noted. Medium bitterness; sweetness at a notch lower. Purple Rice Lager finished briefly with rich malts, bitterness, and a hint of rice.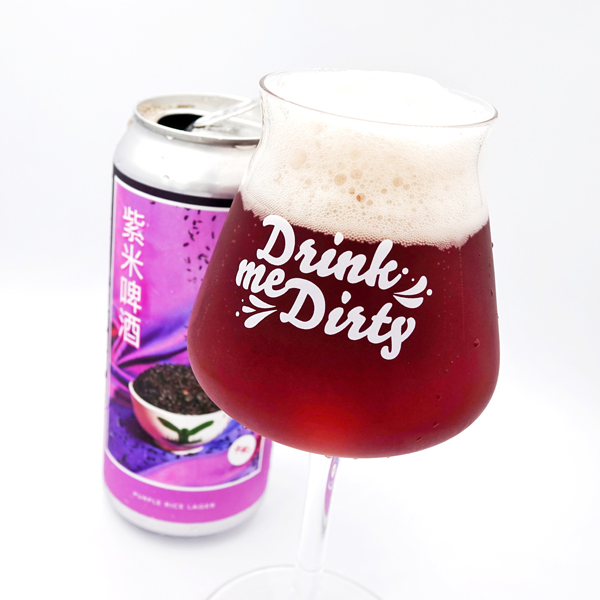 THE VERDICT
Purple Rice Lager is a wonderful twist to your typical rice lager. This beer highlighted mainly rice, dough, and bread as backbone with subtle fruity flavors to liven things up. It still is a moderately-bitter beer but a refreshing one to enjoy on a hot summer day. The barrel-ageing was not explicit. Novelty beers, based on our experience, are not always worth revisiting, but this here is something we would definitely drink again. Excellent.
Related Reviews:
Evil Twin Brewing NYC
Craft Beer From the United States
Co-Founder & Beer Chronicler