Name: Dry Barley W. (2020)
Brewer: Les Intenables (France)
Style: Specialty Wood-Aged Beer (Base Style: English Barleywine)
ABV: 12.5%
Review Year: 2021
Dry Barley W. is a barleywine brewed by Les Intenables (Mundolsheim, France) and was aged for 12 months in Bourgogne Rouge (Pinot Noir) barrels.
STYLE GUIDELINES
This beer is being evaluated as a Specialty Wood-Aged Beer (33B) with the English Barleywine (17D) as the base style in the context of the 2015 Beer Style Guidelines of the Beer Judge Certification Program (BJCP). Since this beer was reviewed before 29 December 2021, the mentioned guidelines were used. The 2021 Beer Style Guidelines, which is the most current version, can now be found on the BJCP website.
TASTING NOTES
Clear deep amber with a medium head. This barleywine bloomed with moderately high fruit aromas (e.g., lychees, prunes, cranberries) and various collective scents reminiscent of Madeira wine (and corresponding alcohol) with complementing hints of toasted barley, oak, and licorice. Medium-full-bodied; moderately low carbonation, with slight astringency. Prominent flavors of dried fruit melded with the Madeira wine impressions, toasted barley, dark chocolate, and wood/oak. Bitterness was moderately high while perceived sweetness was a notch lower. Lingering impressions of the recurring Madeira wine, tobacco, and oak characterized were noted after.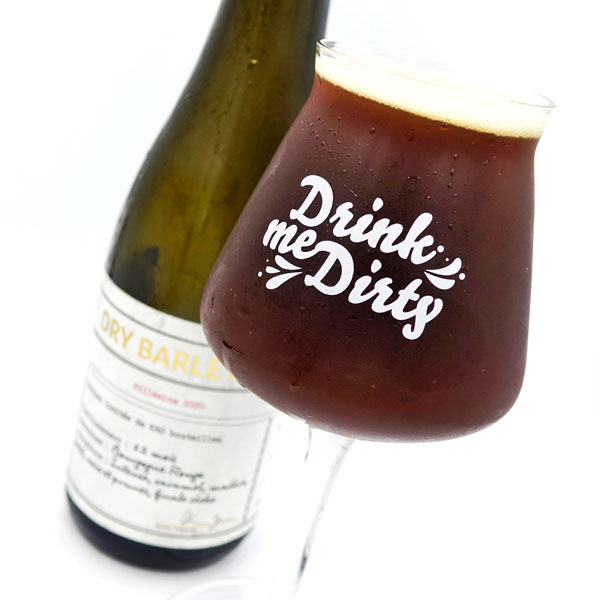 THE VERDICT
Les Intenables underscores the "wine" in "barleywine" with Dry Barley W. The body of this beer is marginally thinner relative to other beers of the style, but this can be expected for barleywines that had undergone long conditioning and/or ageing in barrels.
With its relatively low sweetness or having a dry quality, Dry Barley W. lives up to its name as it consequently showcases a deep and complex malt-forward profile, which was enhanced by dried fruits, oak, and Madeira wine qualities. Its dry characteristic and thinner-than-usual body, in our opinion, make this barleywine more drinkable and versatile with food. Excellent.
Related Reviews:
Les Intenables
Craft Beer From France
View this post on Instagram
Co-Founder & Beer Chronicler