Name: Patrons Project 24.03 // Tom J Newell // Ghost Venom // Young Master // Imperial Stout // Red Wine Barrel Aged
Brewer: Northern Monk (United Kingdom), Young Master Brewery 少爺啤 (Hong Kong)
Style: Specialty Wood-Aged Beer (Base Style: Imperial Stout)
ABV: 12%
Review Year: 2021
Ghost Venom is an Imperial Stout brewed by Northern Monk (UK) and Young Master Brewery (Hong Kong) conditioned in freshly emptied French Burgundy and Pinot Noir barrels for six months. As part of the Patrons Project series 24, this beer features the art of Tom J Newell and is a melting pot of a complex malt composed of English ale barley malt, Munich malt, and flaked oats as base. These were then topped off with chocolate and crystal rye, as well as dark crystal barley malts for more character.
The Patrons Project is an initiative by Northern Monk to foster collaboration, creativity, and community between artists, athletes, and creatives across Northern England through curating beers that represent each chosen patron. The beers from the 24th series are tributes to artist Tom J Newell.
STYLE GUIDELINES
This beer is being evaluated as a Specialty Wood-Aged Beer (33B) with Imperial Stout (20C) as the base style in the context of the 2015 Beer Style Guidelines of the Beer Judge Certification Program (BJCP). The said guidelines were used since we reviewed this beer before 29 December 2021, the date of publishing of the 2021 update. The most current version can be found on the BJCP website.
TASTING NOTES
Deep brown with a thin head that did not persist. Ghost Venom unleashed moderately high aromas of maple syrup, raisins, and dark chocolate and were accompanied by low earthiness and oak. Medium-bodied, moderately low carbonation, and subtle astringency. Earthy-spicy coffee was the most prominent of flavors. This was backed red wine and accompanying oak for complexity. No alcohol burn. Both perceived bitterness and sweetness were balanced at moderate levels. The aftertaste lingered with some bitterness and dried fruits sans sweetness.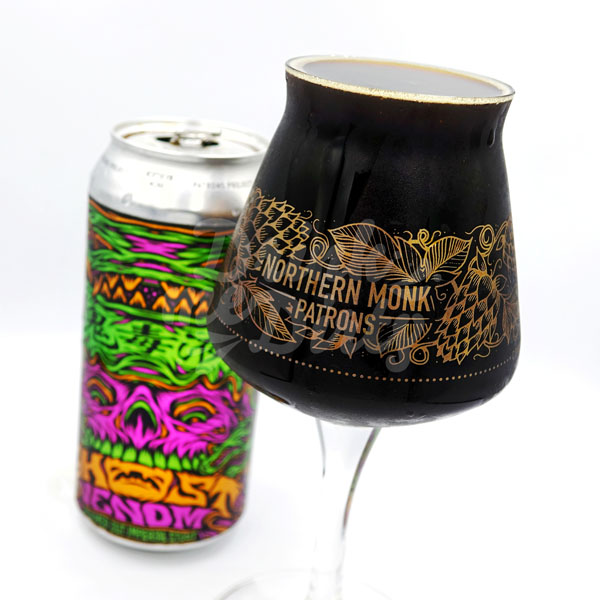 THE VERDICT
Ghost Venom is a red wine-barrel aged Imperial Stout with a harmonious blend of dark malts, dark fruits, and wood. The balance between bitterness and sweetness was spot on, while the presence of oak and influence of the wine felt appropriate and natural.
The body is marginally thinner than the usual Imperial Stout, but this is not unusual for beers that had undergone long conditioning. The astringency, albeit subtle, is also something that can be expected in beers aged in wood. Overall, Ghost Venom is an excellent barrel-aged Imperial Stout that we will remember for a very long time.
Related Reviews:
Northern Monk
Craft Beer From the UK
View this post on Instagram
Co-Founder & Beer Chronicler